The mushroom season is in full swing. If you are an avid mushroom picker, popular recipes will come in handy for you and your family. We will tell you how you can prepare the most popular mushroom dishes.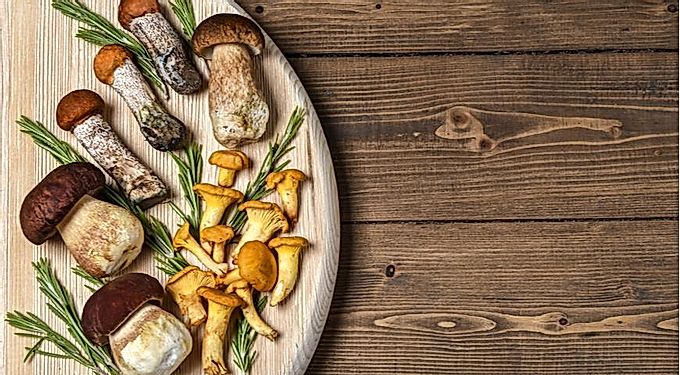 How to prepare delicious and hearty dishes from wild mushrooms or champignons? Quite simple and, what is especially nice, not too long. Remember that in each case, the texture of the mushrooms is important. For example, forest mushroom cream soup turns out to be very tender, aromatic, and also satisfying. So, the second after this first course is simply not needed, especially if you supplement it with wheat bread croutons. As a filling, it is advisable to preserve the juiciness of the mushrooms, and you also need to simply fry them in potatoes according to the rules. In our selection of 10 of the most interesting and popular recipes with mushrooms.
1 Creamy soup with forest mushrooms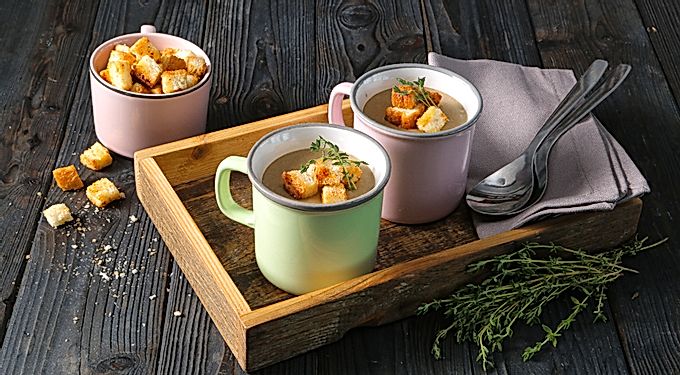 Mushroom cream soup is good with croutons
Products:
milk - 200 ml
onions - 2 pcs.
vegetable oil - 2 tbsp
1 small bunch fresh thyme
250 g fresh porcini mushrooms
250 g chanterelles
30 g flour
375 ml vegetable broth
salt
Peel mushrooms and onions, chop finely. Heat the oil in a saucepan, fry the onion for 2 minutes, add the mushrooms. While stirring, cook everything together for 5-7 minutes. Take out half of the mushrooms, set aside. Sprinkle the remaining mushrooms and onions with flour and fry for another 1 minute. Pour in milk and vegetable broth. While stirring, bring to a boil over low heat, uncovered.
Use a blender to puree the contents of the pot. Season with salt and pepper. Pour into bowls, place in each set mushrooms, garnish with thyme.
2 Pumpkin stuffed with meat and mushrooms with baked potatoes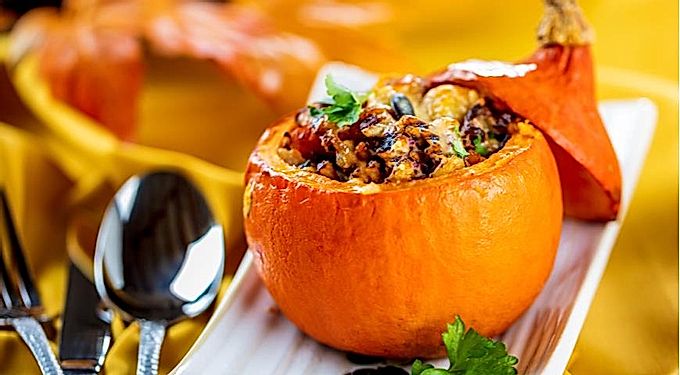 Pumpkin stuffed with mushrooms and meat
Products:
1 medium pumpkin
1 kg of potatoes
500 g of mushrooms
3 medium onions
200 g sour cream
500 g beef (or pork)
2 carrots
How to cook:
Wash the pumpkin, cut off the top, remove the seeds. Cut the meat into cubes, fry. Boil mushrooms, cut. Chop onions and carrots, save. Peel and wash the potatoes. Put meat, mushrooms, sautéed vegetables into the pumpkin (2 layers each). Pour in sour cream. Put pumpkin on a baking sheet, cover with potatoes, sprinkle potatoes with oil. Bake at 160-180 ° C.
3 Pie with cheese sauce and wild mushrooms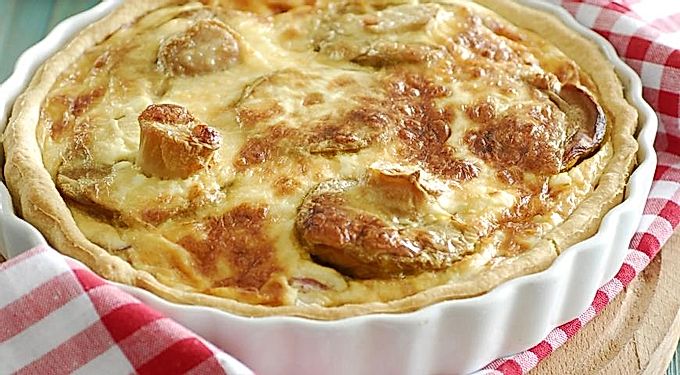 Forest mushroom pie
Products:
200 g flour
100 g butter
a pinch of salt
2 egg yolks
For filling:
300 g fresh forest mushrooms
200 g gouda cheese
2 red onions
1 tbsp. a spoonful of starch
1 egg
100 g cream, 35% fat
100 g sour cream
salt
pepper
How to cook:
Peel the mushrooms, gently wipe the caps with a damp sponge. Boil salted water in a saucepan, add mushrooms and cook for 5 minutes. Drain the water. Dry the mushrooms.
Grate the cheese on a coarse grater. Peel the onion and chop finely. Mix half of the cheese with onions and starch.
Remove the dough from the refrigerator. Place 2/3 of the dough with your hands on the bottom of the mold, level and make frequent punctures on the surface with a fork. Make bumpers from the remaining dough. Place in an oven preheated to 200 ° C for 15 minutes. Let cool to room temperature, then move the dough pan to the refrigerator.
Beat the egg with a whisk with cream and sour cream, salt and pepper. Add the remaining cheese. Mix thoroughly.
Lay the mixture of onions and cheese in an even layer on the bottom of the mold, spread the mushrooms evenly on top. Gently pour the egg-cream dressing into the pie.
Reduce oven temperature to 160 ° C. Bake the cake for 40 minutes. Serve hot. To make the cake look really smart, cook it in a round shape with a diameter of 21-22 cm with low sides. Then the mushrooms will not sink down under the sauce.
4 Potato zrazy with mushrooms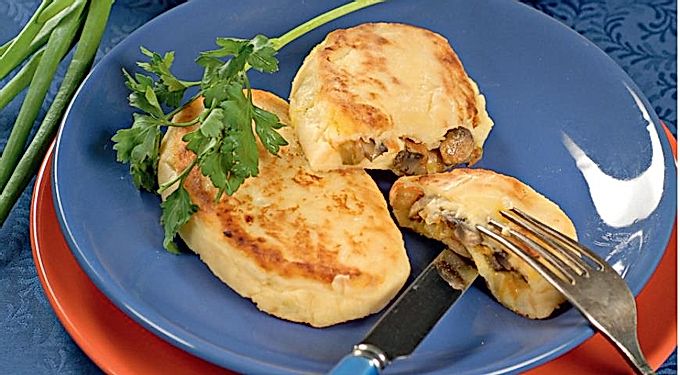 Potato zrazy with mushrooms
Products:
1 kg of potatoes
250 g champignons or oyster mushrooms
2 eggs
2 onions
2 tbsp. tablespoons of butter
100 g sour cream
2 tbsp. tablespoons of flour
3 tbsp. tablespoons of vegetable oil
salt
How to cook:
Peel and boil the potatoes until tender. Mash in mashed potatoes. Add eggs, butter and salt and stir.
Fry mushrooms and onions in butter for 5 minutes, season with salt.