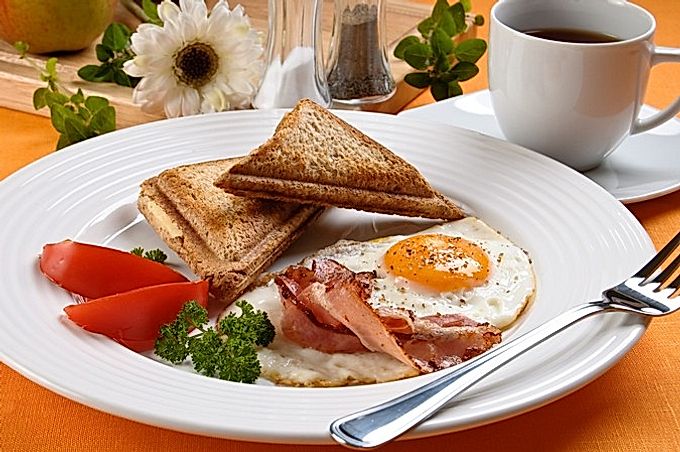 BAKING will cause apathy, citrus fruits - gastritis, and coffee with milk - kidney stones.
That breakfast is the most important meal of the day, we learned with grief. As a result, in the morning we eat conscientiously, but not always what we need ..
YEAST. They contribute to the production of gastric gases, the stomach swells up, which, you know, is not very pleasant. Therefore, on an empty stomach, any yeast baked goods are evil.
YOGURT. What is its meaning? With the help of the beneficial bacteria it contains, help in the digestion of food. And if all these necessary little things get into the body before eating, then they will simply be swallowed up by aggressive gastric juice and there will be no sense. That is, yogurt on an empty stomach is not that bad - it is simply useless. It should be eaten after meals and nothing more.
COFFEE. When caffeine gets on the stomach lining, it teases it. In response, she produces gastric juice, and if he is not fed with other food, then he gets angry, behaves aggressively and begins to eat away at the mucous membrane, and therefore after a while you can wait for a guest in the form of gastritis. In addition, caffeine is irritating to the gallbladder. He contracts, throws out a portion of bile, which is needed in order to help the food to be digested. If she has nothing to digest, she begins to wander sadly around the body idle. We will also disappoint those who believe that the effect of coffee can be softened by milk. The fact is that the astringent substances found in coffee and tea bind to milk proteins and form almost insoluble compounds that are deposited in kidney stones.
SUGAR. And all foods like sweets or sweet fruits like banana. Sugar is instantly absorbed by the body and irritates the pancreas. In response to this, she begins to produce insulin. Blood sugar drops instantly, causing us to feel lethargic and tired instead of feeling refreshed and energized.
CITRUS. There is a lot of acid in them, which enthusiastically pounces on the gastric mucosa, slowly eating away at it. If you do not have any stomach problems, you do not experience heartburn after eating everything sour, then our advice can be disregarded. But if there is gastritis with increased acidity of the stomach, an ulcer and other problems with the gastrointestinal tract, then it is better to refrain from citrus fruits and fresh juices from them.
PEARS. Our ancestors said: "A pear is poison for the body in the morning, and a rose in the evening." The fact is that pears contain a lot of coarse fiber, which injures the delicate mucous membranes of the digestive system. Pears with a very dense texture are especially dangerous: they contain a lot of fiber.
PERSIMMON. It is full of indigestible fibers that slow down the motility of the stomach and intestines - the case when they say that "the stomach is standing." There are especially many such fibers in highly astringent persimmon.
GARLIC. He, as well as all sorts of different burning spices, acts on the principle of caffeine, irritating the mucous membranes and the gallbladder.
COLD DRINKS. They constrict the vessels of the stomach. Because of this, problems begin with the blood circulation of this organ and the entire process of digestion is disrupted. Therefore, you can not drink any cold either on an empty stomach or immediately after eating - it is better after a couple of hours.
Things to know (Q&A)
What foods are bad on an empty stomach?
In today's blog we have covered a list of foods to avoid on an empty stomach for a healthy digestive system.
10 foods to avoid at Breakfast:
2: Citrus Fruits .
3: Baked yeast products.
4: Sweets & Choclates.
5: Tomatoes.
6: Cucumbers.
7: Dairy products.
8: Pears.
What should you eat on an empty stomach?
Foods which provide maximum benefit when eaten empty stomach
01/7 Foods which provide maximum benefit when eaten empty stomach . ...
02/7Warm water and honey. ...
03/7Papaya. ...
04/7Porridge. ...
05/7Watermelon. ...
06/7Nuts. ...
07/7Soaked almonds.
What are the 3 foods to never eat?
20 Foods That Are Bad for Your Health
Sugary drinks. Added sugar is one of the worst ingredients in the modern diet. ...
Most pizzas. Pizza is one of the world's most popular junk foods. ...
White bread . ...
Most fruit juices. ...
Sweetened breakfast cereals. ...
Fried, grilled, or broiled food. ...
Pastries, cookies, and cakes. ...
French fries and potato chips.
What should you not do on an empty stomach?
10 things you should NEVER do on an empty stomach (or when you haven't eaten in a while)!
01/11Things you should never do on an empty stomach . ...
02/11​Never take anti-inflammatory medicines. ...
03/11​Never go to sleep. ...
04/11​Never have alcohol. ...
05/11​Never make a decision. ...
06/11​Never do intense workout. ...
07/11​Never argue.
Is eating a banana on an empty stomach bad?
Bananas contain high amounts of magnesium and potassium and when eaten empty stomach , can imbalance magnesium and potassium levels in our blood. 20
What should I eat first thing in the morning?
Here are the 12 best foods you can eat in the morning .
Eggs. Eggs are undeniably healthy and delicious. ...
Greek Yogurt. Greek yogurt is creamy, delicious and nourishing. ...
Coffee. Coffee is an amazing beverage to start your day. ...
Oatmeal. Oatmeal is the best breakfast choice for cereal lovers. ...
Chia Seeds. ...
Berries. ...
Nuts. ...
Green Tea.
Is it OK to eat banana on empty stomach?
Best known as a super-food, banana satiates hunger and is good for digestion. Bananas contain high amounts of magnesium and potassium and when eaten empty stomach , can imbalance magnesium and potassium levels in our blood. 20
Can I eat boiled egg in empty stomach?
Ditching outside food is a tough option, especially if you are working. However, eating boiled eggs for breakfast and staying away from junk food can be of great help in preventing a bloated belly . Boiled eggs for breakfast will make you feel lighter as compared to eating something unhealthy for breakfast.
What is the number 1 healthiest food in the world?
The 11 Most Nutrient-Dense Foods on the Planet
Salmon. Not all fish is created equal. ...
Kale . Of all the healthy leafy greens , kale is the king. ...
Seaweed. The sea has more than just fish. ...
Garlic. Garlic really is an amazing ingredient. ...
Shellfish. Many sea animals are high in nutrients, but shellfish may be among the most nutritious of all. ...
Potatoes. ...
Liver. ...
Sardines.
Why should you never eat bananas?
"When potassium is deficient, low levels can cause heart arrhythmias and potentially impair blood flow to the brain, muscles, and organs," she says.