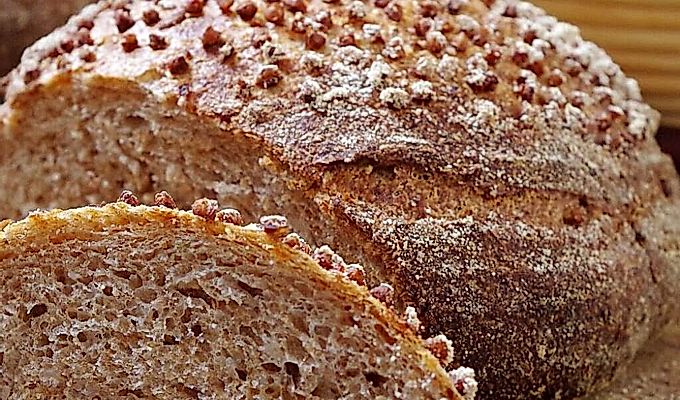 Buckwheat bread is a healthy product that is ideal for the diet of people who look after their health and shape. The beneficial properties of buckwheat have long been known to people. Modern manufacturers have begun to actively produce also buckwheat flour, which is not inferior in its useful and nutritious properties to whole grain cereals [1] [2]
One of the most popular products with the addition of buckwheat flour is bread. Buckwheat bread has an incredible aroma and a light nutty flavor. In the process of making bread, we are used to using wheat flour, how can we add buckwheat flour to a recipe to make a delicious and healthy bread [3] [4] [5]
Buckwheat bread in the oven
Buckwheat bread in a bread maker
Buckwheat bread in a slow cooker
Buckwheat bread recipe
Flourless buckwheat bread recipe
Buckwheat-rye bread recipe
One of the main ingredients of bread is buckwheat flour, which enriches the body with essential amino acids, fiber and protein [6]
Buckwheat bread in the oven
To make bread from buckwheat flour in the oven, you will need 450 grams of premium whole wheat flour, 7 grams of salt, 10 grams of sugar, 1.5 teaspoons of instant yeast, 2 tablespoons of cold-pressed vegetable oil. 50 grams of high quality finely ground buckwheat flour.
The first thing to do is to combine the two types of flour and sift the resulting mixture through a sieve. Combine 1 cup of warm water with dry yeast, add the yeast mixture to the flour mixture, and stir a little to get the consistency of liquid sour cream. Leave the dough for 3-4 minutes until bubbles appear on the surface. Add 1 more glass of water, salt, sugar, butter and knead the dough.
The dough must be kneaded thoroughly so that it becomes elastic and free of lumps. Cover the dough with a towel and let the time increase two to three times. The increased dough must be kneaded again, rolled into a layer 1 centimeter thick, greased with butter or sesame oil, and rolled up. From this volume, 2 loaves should be obtained. We spread the loaves on a baking sheet and leave for 30 minutes in a warm place, let them fit. Then we bake in an oven preheated to 200 degrees for half an hour. Wheat-buckwheat bread is ready.
Buckwheat bread in a bread maker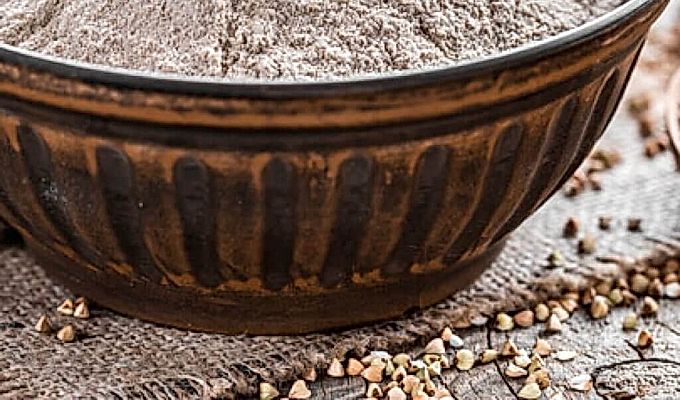 To make bread from buckwheat flour in a bread maker, you will need 1 teaspoon of fast-acting dry yeast, 300 grams of 1st grade whole wheat flour, 100 grams of high-quality buckwheat flour, 1 teaspoon of salt, 2 teaspoons of sugar. 2 tablespoons of vegetable oil (unrefined) and 280 milliliters of warm water.
On the bread maker, you need to select the appropriate program, the approximate cooking time in the bread maker is 4 hours. Step-by-step recipe: all the ingredients must be loaded into the bowl of the bread maker in the order specified in the recipe. Start the main bread kneading mode. During the kneading process, watch the dough, you may need to add flour or oil, or water.
Take out the finished ball from the dough and form a neat bun on your own, put the ball back into the bowl (you can remove the knife from it), close the lid on the bread machine. Important: do not open the lid until it is completely ready. There are a lot of options for making bread in a bread maker, you need to try and experiment. Perhaps you will like some kind of bread recipe.
Buckwheat bread in a slow cooker
To prepare buckwheat bread in a multicooker, 50 minutes are spent on preparation and 50 minutes on the cooking process itself... In order to bake bread weighing 600 grams, you need 300 grams of wheat flour, 100 grams of buckwheat flour, 1.5 teaspoons of fast-acting yeast, 300 milliliters of 40-degree water, 1 teaspoon with a slide of salt, 1 tablespoon with a slide of sugar. 3 tablespoons of vegetable oil.
The first thing to do is to make a dough. To do this, combine 100 grams of wheat flour with salt, sugar and dry yeast, add water, mix thoroughly and leave in a warm place for 20 minutes. After the dough has come up (the volume has doubled), add buckwheat flour to it, the remaining wheat flour, vegetable oil and knead as high quality as possible.
As a result, the dough should be smooth and elastic. We put it in a multicooker bowl and leave for another 20 minutes (at a temperature of 40 degrees). After the dough has come up, select the "baking" mode, set it for 30 minutes. After this time has passed, the loaf must be turned over and baked for 20 minutes.
Buckwheat bread recipe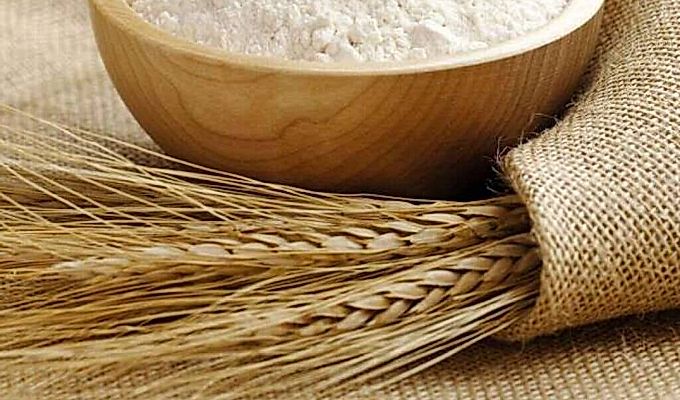 To make bread from buckwheat flour without wheat, you will need 1 glass of warm milk or warm water, 20 grams of dry yeast with fast action, 1 teaspoon of sugar, an incomplete glass of buckwheat flour, 2 eggs, 3 tablespoons of vegetable oil. 1 cup corn starch
Combine the yeast with sugar and warm liquid, add all the other ingredients, knead the dough thoroughly, cover with a towel and allow time to increase the dough 3 times. Carefully place the baking sheet with the matched dough in the preheated oven for an hour. The oven must not be opened for the first 40 minutes.
This type of bread is gluten-free and has many medicinal and beneficial properties [7]
can be consumed by people with diabetes and gluten allergies [8] [9]
positively affects the work of the digestive tract;
cleans and strengthens the walls of blood vessels;
improves the functioning of the immune system;
has a tonic effect;
saturates the body with micronutrients, fiber, amino acids and vitamins [10] [11]
Yeast-Free Buckwheat Bread Recipe
To make bread from buckwheat flour without yeast, you will need 200 milliliters of warm milk, 0.5 teaspoon of soda, juice of half a lemon, 0.5 teaspoon of chopped sea salt. 2 tablespoons of any unrefined vegetable oil (preferably olive oil), 100 grams of coarse buckwheat flour, 100 grams of 1st grade wheat flour.
The result is yeast-free bread with an energy value of 203 kilocalories and nutritional value:
| | |
| --- | --- |
| Squirrels | 7.65 g |
| Fats | 2.43 g |
| Carbohydrates | 37.73 g |
Consider a step-by-step recipe for making yeast-free buckwheat bread. Pour soda slaked with lemon juice into milk, add vegetable oil and salt. Add sifted buckwheat and wheat flour alternately to the resulting liquid mixture. Knead the resulting dough with your hands. The dough will be thick, since among the properties of buckwheat flour there is also a quick absorption of liquid. Transfer the well-mixed ball to a baking sheet and form the desired loaf shape. Place the baking sheet in a preheated oven (temperature 180 degrees) and bake for about 30-50 minutes until completely cooked.
Yeast-free bread is useful for diseases of the gastrointestinal tract, hypertension, diseases of the cardiovascular system, during the recovery period after liver operations, for hypertensive patients. It is allowed to be added to the children's diet, to the diet of women during lactation and during pregnancy.
Buckwheat-rye bread recipe
Coronaviruses: SARS-CoV-2 (COVID-19)
Antibiotics for the prevention and treatment of COVID-19: how effective are
The most common "office" diseases
Does vodka kill coronavirus
How to stay alive on our roads?
To prepare buckwheat-rye bread, you will need 300 grams of whole wheat flour (1st grade), 50 grams of rye flour, 50 grams of buckwheat flour, 270 milliliters of 30-degree water or skim milk heated to 40 degrees, 2 tablespoons of rye malt. 1 tablespoon of liquid honey, 1 teaspoon of salt, 2 tablespoons of vegetable oil, 1 teaspoon of fast-acting yeast.
Mix all liquid components. Mix all dry ingredients, preferably sift them all through a sieve to enrich with oxygen. First add the liquid mixture to the bread maker, then pour the dry ingredients on top, turn on the mixing mode (this process takes 10 minutes). As a result, the dough should be soft and at the same time dense and not sticky, keep its shape.
After kneading, close the oven lid and forget about it until the bread is completely cooked. The finished product must be taken out of the oven and left to cool completely. Wheat-buckwheat-rye bread is ready to eat.
There are an incredible amount of recipes for baking buckwheat flour. Try, experiment, look for a favorite. Good appetite!
Things to know (Q&A)
What is buckwheat bread made of?
You can use hulled buckwheat groats. Hulled buckwheat groats are buckwheat with the tough, dark outer shell removed. Hulled buckwheat groats still have the distinct flavor buckwheat is known for, but are much more mil
Does buckwheat bread have carbs?
Buckwheat Bread (1 slice) contains 18g total carbs , 17g net carbs, 2g fat, 3g protein, and 90 calories.
Is buckwheat good for baking?
Because buckwheat is gluten-free , it also lends a different texture to baked goods than wheat flour. It won't give you light, fluffy yeast bread because there's no gluten to be developed, but it does add moistness to cakes and tenderness to cookies and bar
Will buckwheat flour rise?
Buckwheat doesn't rise which is why it is so well suited to pancakes, biscuits or in pastr
Is there bread made from buckwheat?
This super-simple no-knead buckwheat chia bread is naturally gluten-free, healthy, delicious and very easy to make with only a few ingredients! It requires no yeast, no kneading, and uses no special ingredients, equipment or techniques. The best quick and easy bread recipe for anytim
Is buckwheat better for you than wheat?
Buckwheat flour contains four times as much fiber as whole wheat flour , and is also a very good source of manganese and magnesium. The protein in buckwheat is a complete protein, containing all eight essential amino acid
What is buckwheat flour made out of?
Buckwheat flour is ground from Buckwheat which is actually a herb, better related to rhubarb and sorrel. It's what is commonly referred to as a pseudo-grain since it looks and acts like a grain but is actually a seed rich in complex carbohydrate
Is buckwheat a gluten?
Despite the word "wheat" in its name, buckwheat is a naturally gluten-free food that is related to the rhubarb plant. It's a versatile grain that can be steamed and eaten in place of rice, or the whole seeds can be ground into a fine flour. Buckwheat has high levels of fiber and is a great source of protein.
Is buckwheat low in carbs?
Buckwheat contains a variety of healthful nutrients. It is a good source of protein, fiber, and healthful complex carbohydrates . One cup, or 168 grams (g), of roasted, cooked buckwheat groats (hulled seeds) contains the following nutrients: 5.68 g of protei
Does buckwheat have a lot of carbs?
Despite its name, buckwheat is not related to wheat and does not contain gluten. Raw buckwheat contains 75 grams of carbs , while cooked buckwheat groats contain about 19.9 grams of carbs per 100-gram serving ( 15 , 16Trusted Source Trusted Source ). Buckwheat is very nutritious, containing both protein and fiber.
How many carbs are in buckwheat flour?
Buckwheat flour, whole-groat, 1 cup
| Protein (g) | 15.14 |
| --- | --- |
| Carbohydrate, by difference (g) | 84.71 |
| Energy (kcal) | 402 |
| Sugars, total (g) | 3.12 |
| Fiber, total dietary (g) | 12 |
How many carbs are in buckwheat cakes?
Buckwheat Pancakes (0.33 cup) contains 28g total carbs , 25g net carbs, 1g fat, 5g protein, and 140 calories.
Can you use buckwheat for baking?
You can generally swap 25 percent of the wheat flour with buckwheat flour (by weight or volume) in cookies, muffins, scones, or biscuits, and even cakes and quick bread, and crackers, without a proble
Does buckwheat flour change the taste?
What flavours pair well with buckwheat flour? Buckwheat flour can be fun to experiment with since it can completely change the profile of a recipe if used . Although you want to use it in recipes with flavours that can stand up to its intense earthy flavou
Will buckwheat flour rise?
It still needs to rise, as most "real" bread recipes do, but it only takes one rise ! No punching down, no second rise. Just put the batter into the baking pan, let rise, and bake! This buckwheat bread is tender, mildly sweet, and SOF
What is the difference between buckwheat flour and regular flour?
Raw buckwheat flour (ground groats) is more absorbent than wheat flour and is used in recipes for pancakes, blini, and pasta such as Japanese soba noodles. ... Buckwheat flour contains four times as much fiber as whole wheat flour, and is also a very good source of manganese and magnesiu