Hardly anyone will be able to accurately answer the question when the pancake cake appeared. One thing is for sure: at first there were pancakes, and only then people decided to combine them with various products, making an appetizer or dessert. Pancakes with cottage cheese, meat, fish, eggs, caviar, jam - these are the most popular options today, which probably every person has tried. But there is also a fundamentally different dish - when pancakes are smeared with cream and served together, and this dish is called pancake cake.
If you are tired of standard pancakes, and you want to surprise your loved ones at Shrovetide, this option is just for you. Such a cake is prepared very simply and quickly, in most cases you do not even need an oven: you just bake pancakes in the same way as always, and add any cream you like to them. Thanks to the thin "cakes" the dessert turns out to be really very tender and juicy. As a decoration, you can choose coconut, chocolate, nuts, candied fruits, dried fruits, fruits and berries, or the same cream that you used when assembling the cake.
The indisputable advantages of such a dessert can be safely attributed to:
ease of preparation;
a relatively small list of products that can be found in the refrigerator for almost every housewife;
no need for an oven;
a huge number of fillings and serving options.
Due to the cream and other components, a pancake cake can be made absolutely anything: light, hearty, sweet, sour, salty - it all depends on your preferences and desires. Therefore, the next time you decide to bake pancakes, simply add your favorite cream to them and collect a delicious dessert - your guests will be delighted.
Chocolate pancake cake - a very simple recipe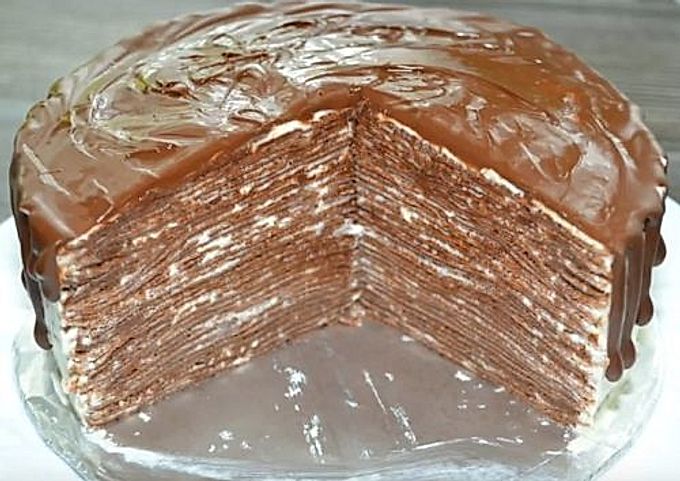 If a celebration is about to be planned and you want to surprise your guests with a delicious and unusual dessert - this recipe is for you. The chocolate pancake cake turns out to be extremely tasty and tender, while preparing it is very, very simple. Anyone who has ever fried pancakes can handle this task. And if you compare its preparation with the preparation of a classic biscuit, then the latter is much more difficult to do. The only condition is that you need to cook the day before, or at least a few hours before the celebration, so that the finished dish is infused in the refrigerator.
The cake consists of thin chocolate pancakes and delicious butter cream. For its preparation, cream cheese is taken: in the recipe this is Mascarpone, but you can take any other. The sweetness of chocolate is favorably set off and emphasized by the light sourness of the layer. If desired, you can add fruits of your choice: bananas, kiwi, strawberries. But even without them, the cake will be very tasty. Pancakes are prepared no more complicated than usual, just in the process of kneading the dough, cocoa is added. And remember: the smaller the diameter of the pan, the taller your cake will be.
Needed for pancakes:
flour - 200 gr.;
chicken egg - 3 pcs.;
milk - 400 ml;
kefir - 120 ml;
water - 125 ml;
sunflower oil - 50 ml;
cocoa powder - 2 tbsp. l. with a slide;
sugar - 2 tbsp. l .;
salt - 0.5 tsp.
It will be needed for the cream:
cream - 250 ml;
cream cheese - 250 gr.;
icing sugar - 2 tbsp. l.
Needed for chocolate icing:
Cooking steps.
1. Sift flour into a deep bowl, then cocoa. Don't skip this step. Firstly, this way you will avoid debris accidentally ending up in the product. Secondly, flour and cocoa are thus saturated with oxygen, which further helps to make the pancakes more delicate and airy. Stir until smooth.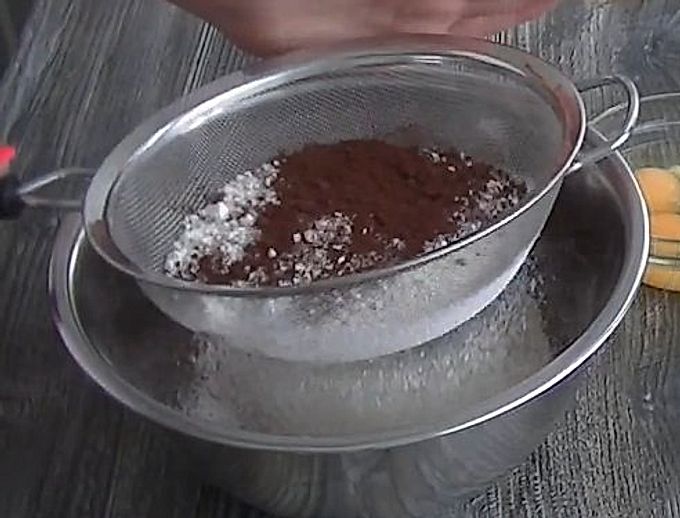 2. Break 3 eggs into a separate deep bowl, beat lightly. Add salt and sugar, stir. Then add milk, kefir and water there and mix again.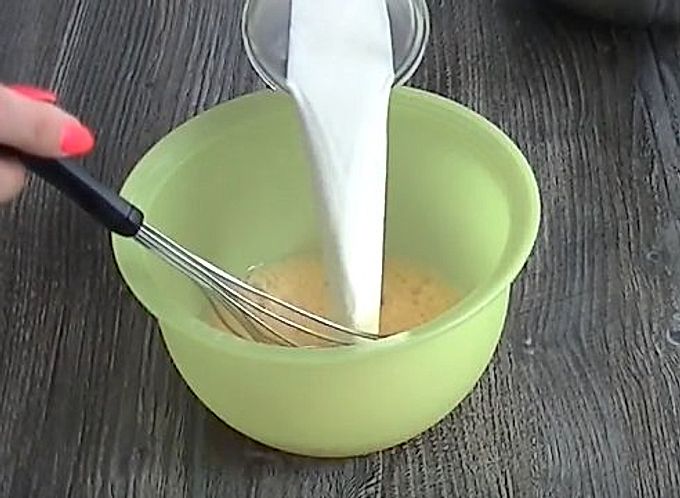 3. Gently add half of the resulting mixture to the cocoa flour, stirring everything with a whisk in the process to avoid clumping. Then pour in the rest of the mixture, mix and add sunflower oil. Stir everything again.
4. Pour some dough into a well-heated frying pan and, tilting it in different directions, spread the semi-liquid mass over the entire surface. When the pancake is cooked on one side, gently grab the edge and flip it quickly. Fry until tender. Repeat with the entire test.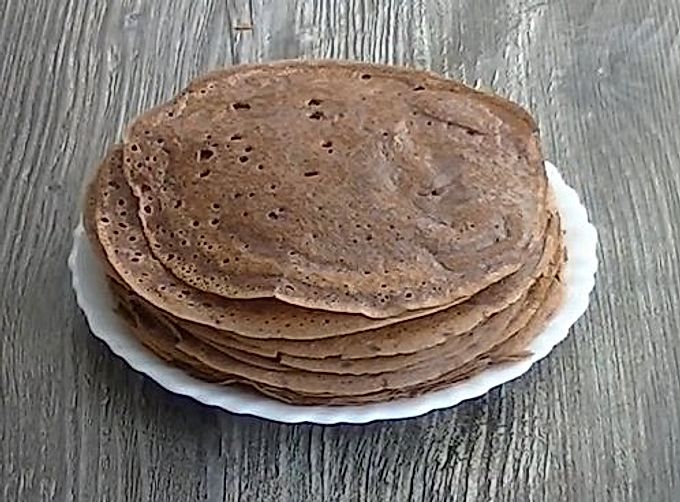 5. To prepare the cream in a deep bowl, combine all the ingredients and beat with a mixer until smooth. It should be pretty thick.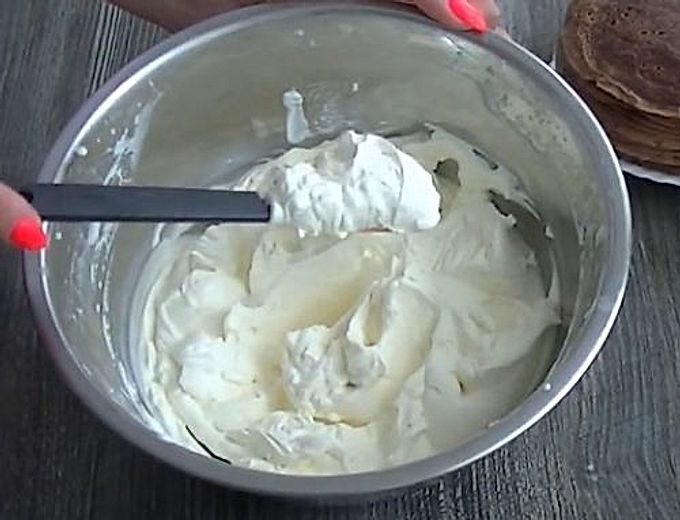 6. Now you can start assembling the cake. The most convenient way to do this is in a special culinary ring: then you can not be afraid that the cake will "fill up" or turn out to be crooked. The assembly should be done on a flat dish, on which you will eventually serve the cake. Lay out one pancake and spread a little cream over it. Top with another pancake and brush with cream again. Repeat with all pancakes. The top layer should be cream. Be sure to leave some to lubricate the sides. Put the collected cake in the refrigerator for at least an hour.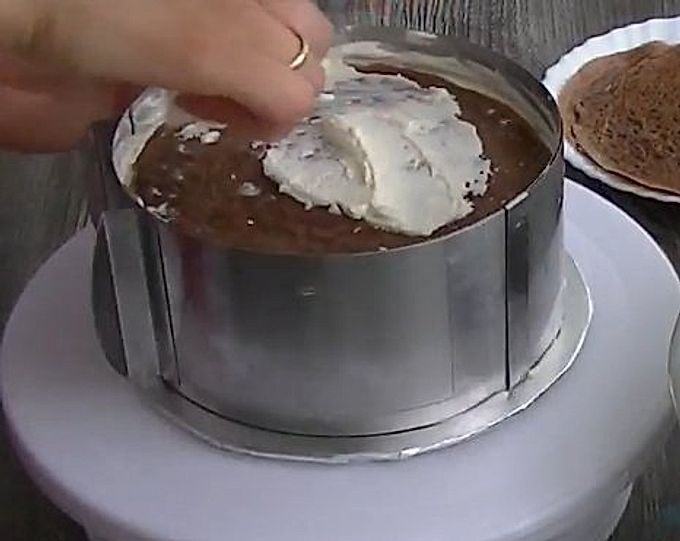 7. When the cake is cool, take it out, free it from the ring and grease the sides with the remaining cream.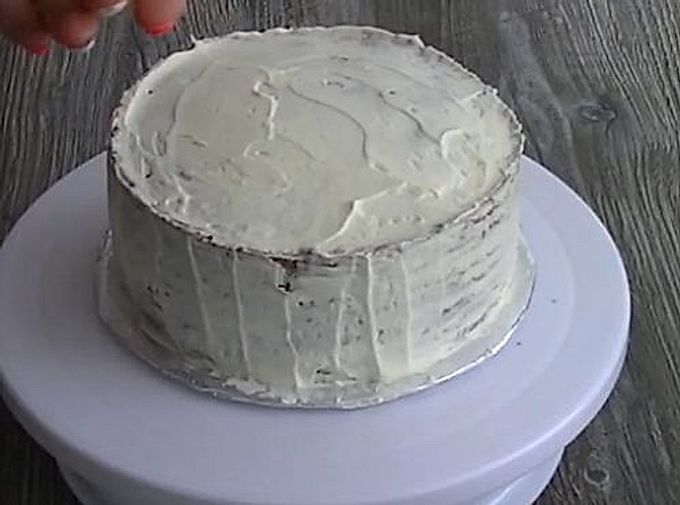 8. Chop the chocolate and melt it.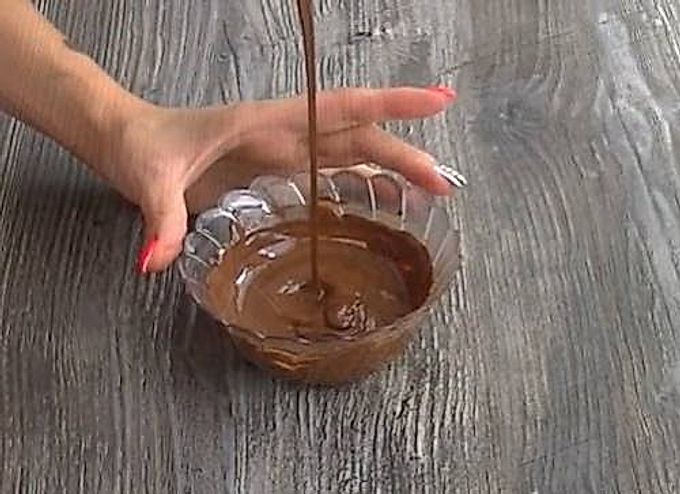 9. Pour the liquid chocolate over the cake. You can use a piping bag or a regular spoon. Align the upper part. Decorate with fruit if you wish.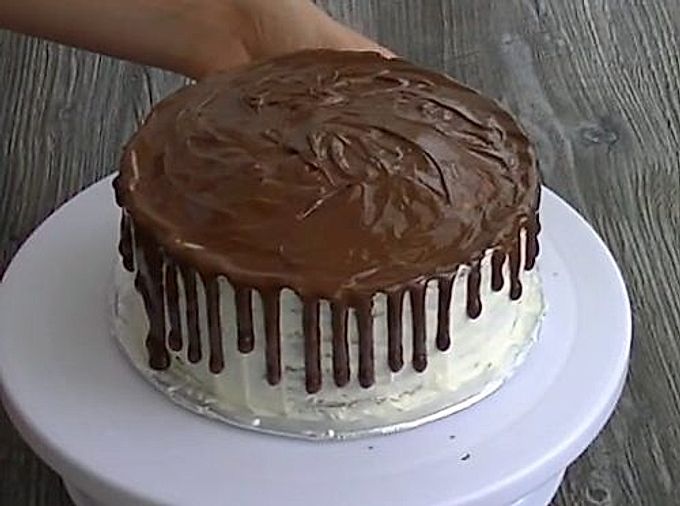 When the chocolate pancake cake is done, refrigerate it for a few more hours.
Festive Crepeville pancake cake with condensed milk cream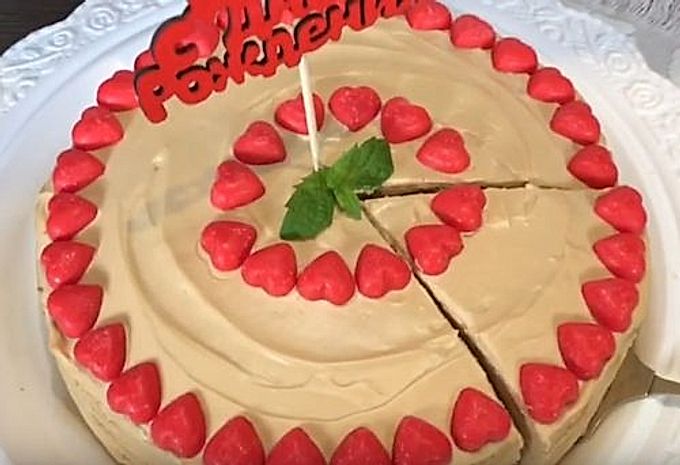 If you are not a fan of sugary-sweet desserts, then Crepeville cake will be an excellent choice for you. It is prepared as simply as any pancakes, it is easy to assemble, and it looks very cute. The cream made from curd cheese and boiled condensed milk has a delicate curd taste, and the pancakes themselves have practically no sugar. If you want to sweeten it, you can increase the amount of caster sugar as you cook it.
Use food at room temperature. You can decorate the pancake cake in any way. Above all, remember to leave some cream on top to even out the sides and top. You can put berries, fruits, nuts, chocolate chips, whipped cream, or any sweets on top. Try to make this delicate Crepeville cake and your loved ones will appreciate it.
Needed for pancakes:
flour - 300 gr.;
chicken egg - 5 pcs.;
milk - 500 ml;
water - 100 ml;
liquor (optional) - 50 ml;
butter - 75 gr.;
vanilla sugar - 1 tsp;
salt - a pinch.
It will be needed for the cream:
cream 33% fat - 500 ml;
curd cheese - 500 gr.;
icing sugar - 2-3 tbsp. l .;
boiled condensed milk - 1 can.
Cooking steps.
1. Start by kneading the dough. It is most convenient to use a mixer or blender for these purposes. First, pour milk into a deep dish or a special bowl, then water. Add a pinch of salt, add chopped butter, eggs and vanilla sugar.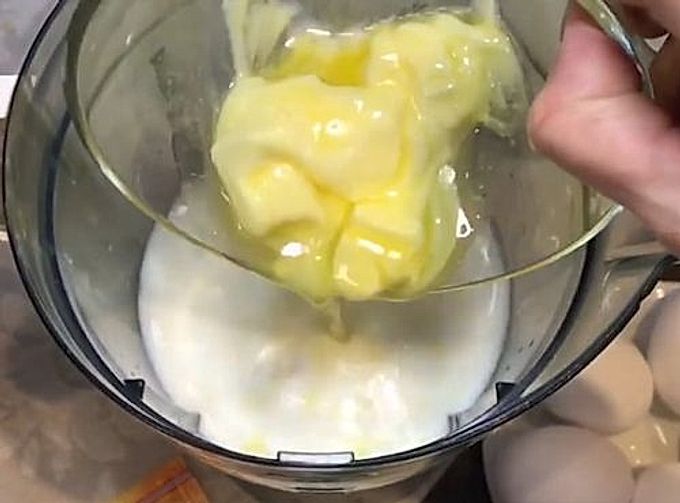 2. Whisk the ingredients and carefully add the flour through a sieve. Do not avoid the sifting step: in addition to leaving all the debris in the sieve, this will saturate the dough with oxygen. This will help the pancakes to turn out delicate and airy. Leave the finished dough to infuse for at least a quarter of an hour.
3. While the dough is infusing, use the cream. First, whip the cream with a mixer at maximum speed. In time, this should take 30-60 seconds. Otherwise, the cream will not work for you.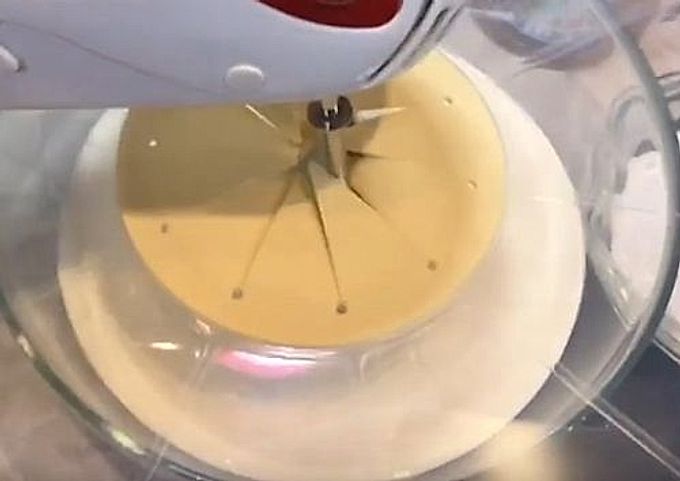 4. Add boiled condensed milk into the whipped cream and stir gently with a fork. When the mixture becomes more homogeneous and pliable, continue to stir with a whisk.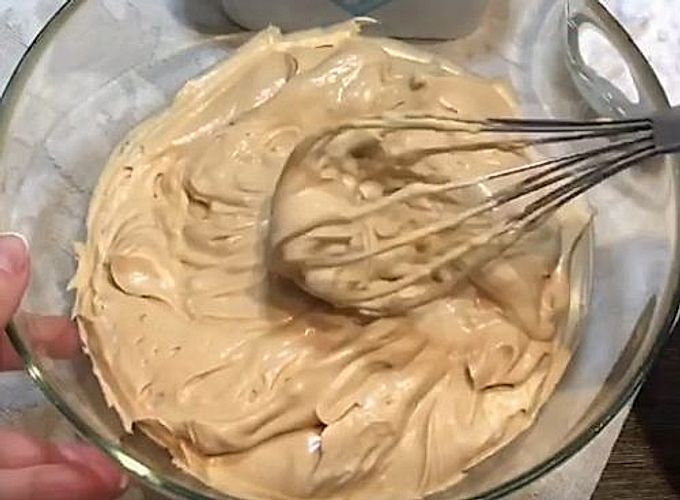 5. The next step is to add the cheese. Just like condensed milk, it must be carefully mixed into the future cream. Then add powdered sugar and stir everything thoroughly again. Put the finished cream in the refrigerator, cover with a lid and cling film.