No holiday is complete without tea and a delicious dessert, and one of the best options is good old homemade chocolate cake. It goes perfectly with almost any drink. And this cake looks very noble thanks to the chocolate color. Dessert can always be bought at the store, but homemade cakes are much tastier. In addition, this is a great way to pleasantly surprise your loved ones and hear many compliments on your skill.
The history of the chocolate cake began a long time ago. Everyone knows that the main constituent of chocolate is cocoa, and the first mentions of it date back to the time of the ancient Aztecs. They considered this product sacred and prepared a strong tart drink from it more than 3 thousand years ago. After the conquest of the territory of modern Mexico by the Spaniards, cocoa appeared in Europe. However, due to the peculiarities of the climate, it was almost impossible to grow it there, so cocoa fruits were considered a delicacy and were very expensive.
For a long time, chocolate was available only to the wealthiest people. Thanks to King Louis XIV of France, chocolate drinks became very popular, first in France, and then in Germany, England, Holland, Italy and Switzerland. And when the processing of cocoa beans was modernized, chocolate began to fall in value due to an increase in shelf life, and the product became much more affordable. Then new recipes with the addition of cocoa began to appear.
Homemade Chocolate Truffle Cake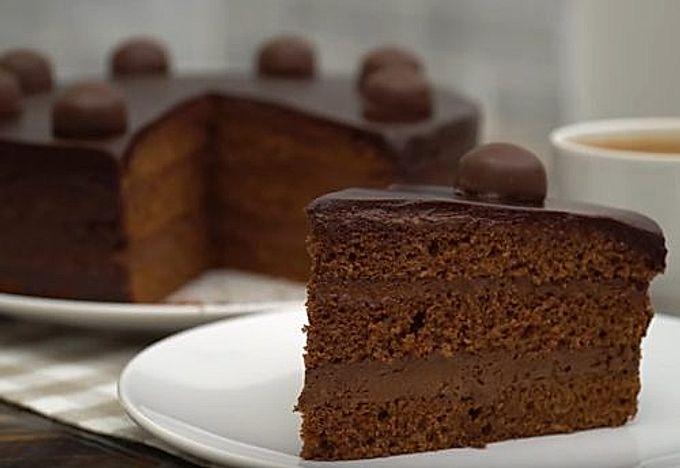 This cake is simply chocolate chocolate, which will be to the liking of all sweet tooths. Delicate, moderately sweet with a slight bitterness and porous texture, Truffle cake simply melts in your mouth. To make the biscuit airy and juicy, the cakes can be wrapped in cling film and left in the refrigerator overnight. It is quite simple to prepare, so it is not at all necessary to complete a cooking course. At first glance, it may seem that you have too long a list of products, but you will not come across any unknown names - everything is very simple. You can decorate the cake at your discretion: with nuts, coconut flakes, pieces of chocolate or leave it "naked" - everything will be in perfect harmony with the main taste of the Truffle.
It will be needed for the test (mold diameter 22 cm):
chicken egg - 4 pcs.;
wheat flour - 160 gr.;
sugar - 160 gr.;
cocoa powder - 25 gr.;
sunflower or olive oil - 100 gr.;
water - 80 ml;
salt - 1 pinch.
It will be needed for the cream:
dark chocolate - 200 gr.;
cream 30% - 400 ml.
Needed for fondant:
cocoa powder - 2 tbsp. l .;
milk - 4 tbsp. l .;
sugar - 3-4 tbsp. l .;
butter - 50 gr.
It will be needed for impregnation:
freshly brewed coffee - 120 ml. Add cognac if desired.
Cooking steps:
1. Place a saucepan with cream on low heat and, stirring occasionally, bring to a boil. Then remove from heat, add chopped chocolate. Stir everything well until the chocolate is completely dissolved and a homogeneous mass is obtained. When the mixture is at room temperature, put the future cream in the refrigerator for a couple of hours.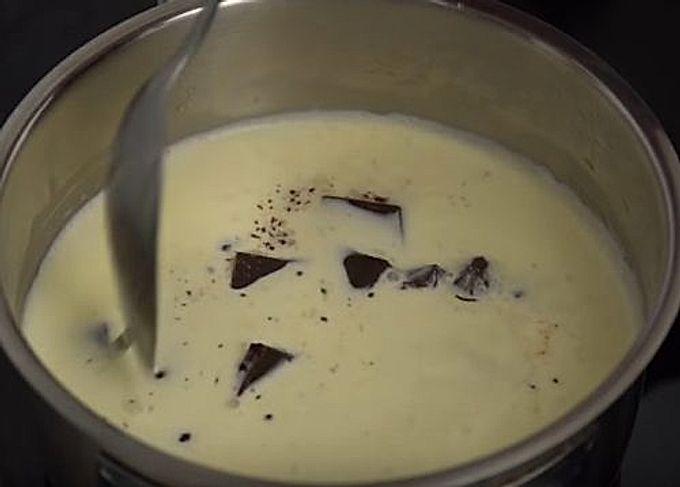 2. The next step is to prepare the cakes. Place 2 tablespoons of sugar in a separate container. In a tall bowl, stir in water, butter, cocoa and remaining sugar. Place the mixture over medium heat and bring to a boil, stirring occasionally.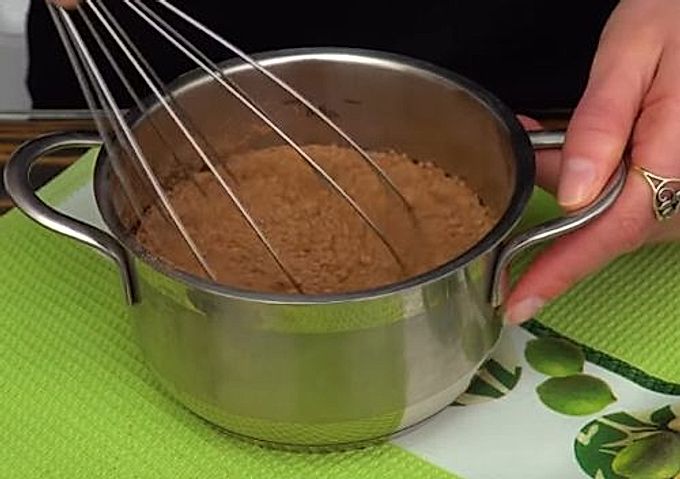 3. Break the eggs into a separate bowl and beat them at a slow speed with a mixer until smooth. Add sugar gradually and continue beating, increasing the mixer speed - it will take about 7 minutes. The mass should thicken slightly and become white and dense.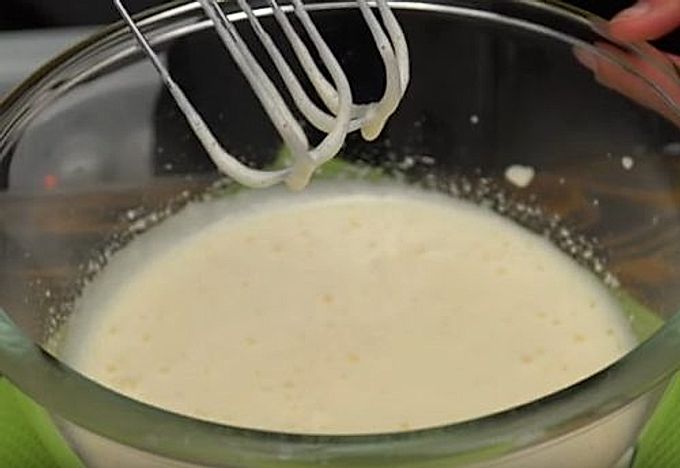 4. Pour salt into the mixture and beat with a mixer at low speed. Gradually pour the already cooled chocolate into the mass in a thin stream and continue to beat until smooth.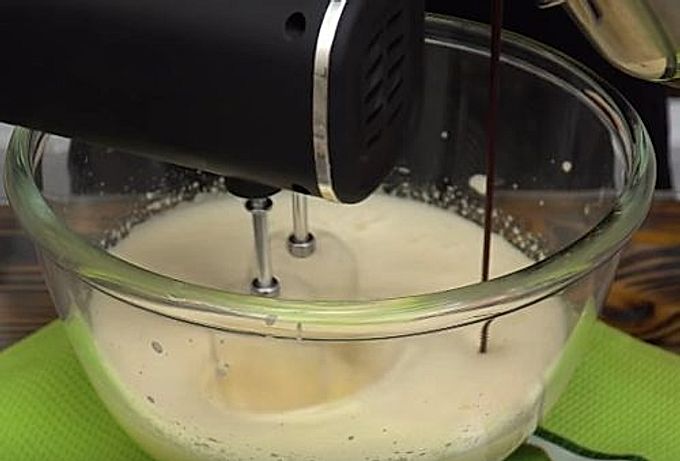 5. In a separate bowl, combine the pre-sifted flour with baking powder and add it to the chocolate mixture in several passes, stirring gently with a spatula from bottom to top. The dough is obtained in consistency, like sour cream of medium density.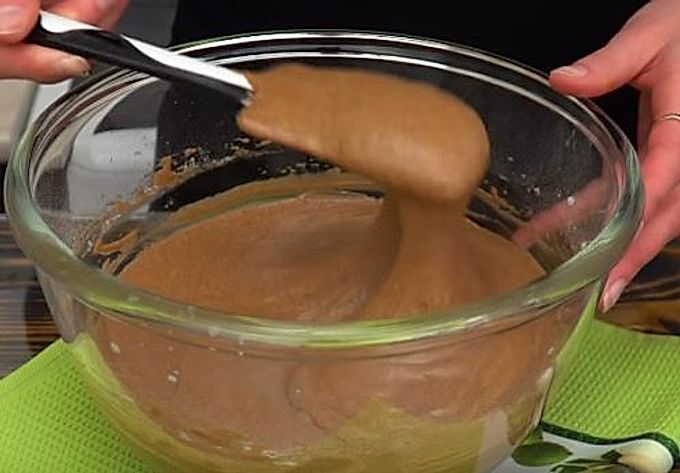 6. Line a baking dish with parchment and pour the dough into it. Gently flatten and send to cook in an oven preheated to 180 degrees.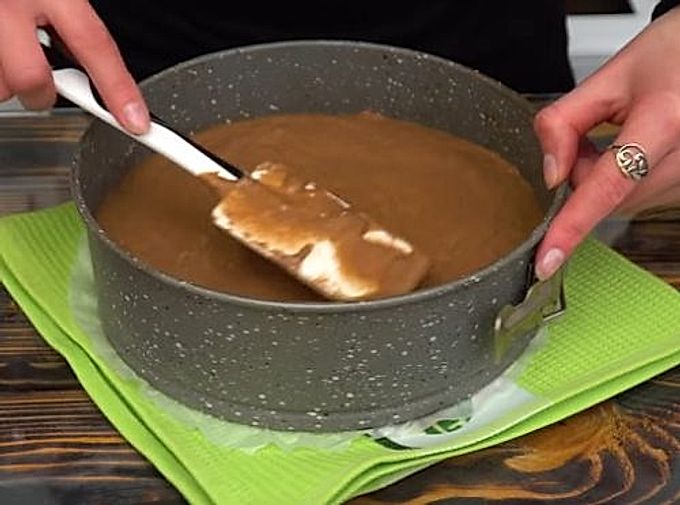 7. Depending on the oven, the usual time for baking a sponge cake is 30-40 minutes. Readiness must be checked with a wooden skewer or a toothpick: pierce the biscuit in one place - the skewer should come out of it completely dry.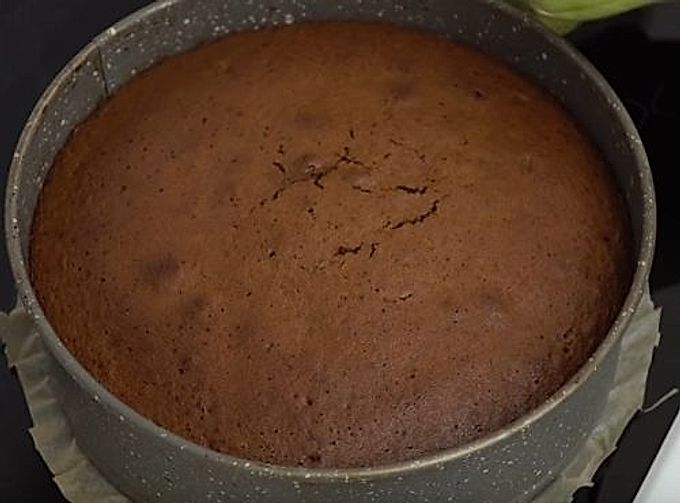 8. After the biscuit is ready, it must be taken out of the oven, removed from the mold and allowed to cool completely. Divide the cooled biscuit with a special knife or thread into 3 identical cakes.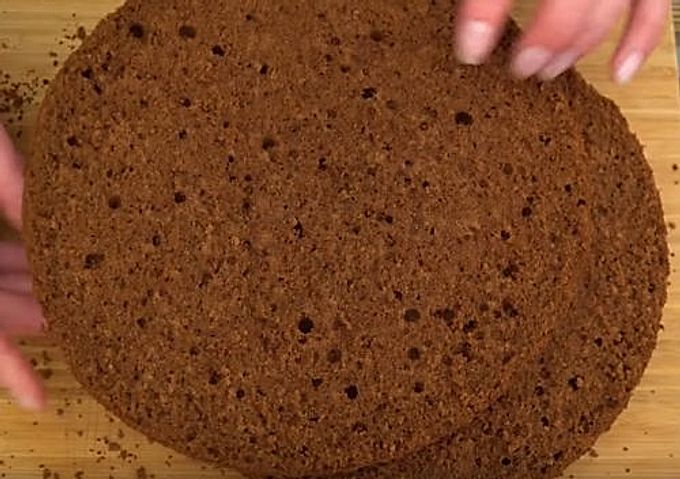 9. Take the cream out of the refrigerator and beat it with a mixer until very thick - this will take no more than a couple of minutes.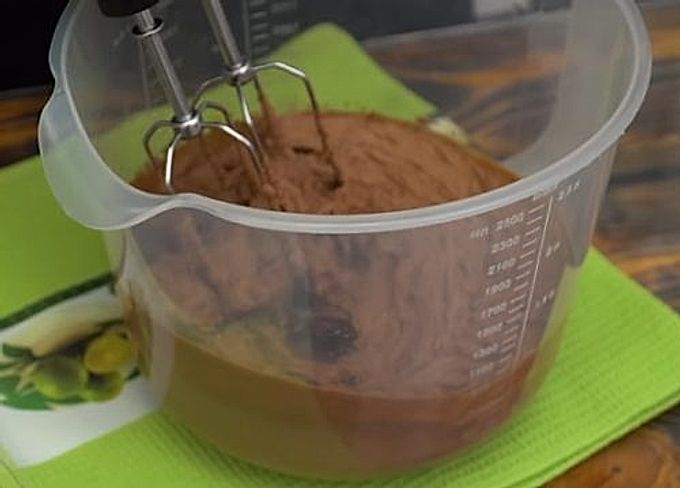 10. The next step is to fold the cake. Place the crust on a dish, saturate it with coffee and add a third of the cream. Spread over the entire cake. Then place the next cake, lightly press down on it and repeat the procedure.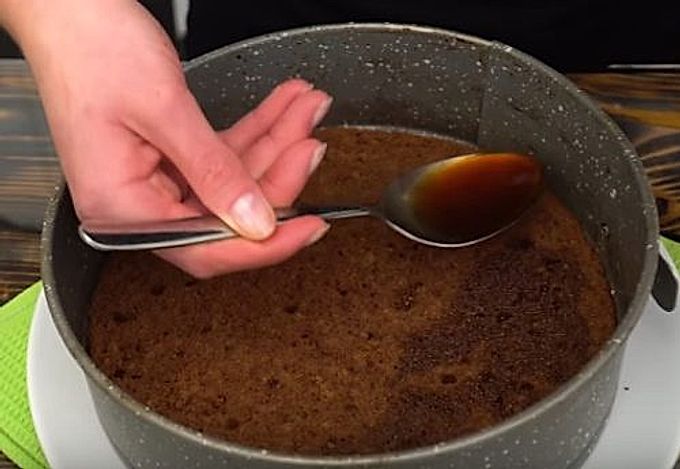 11. Lubricate the top cake in the same way with cream, then proceed to the sides. Using a special spatula, smooth out the cream and send the cake to cool in the refrigerator for a couple of hours.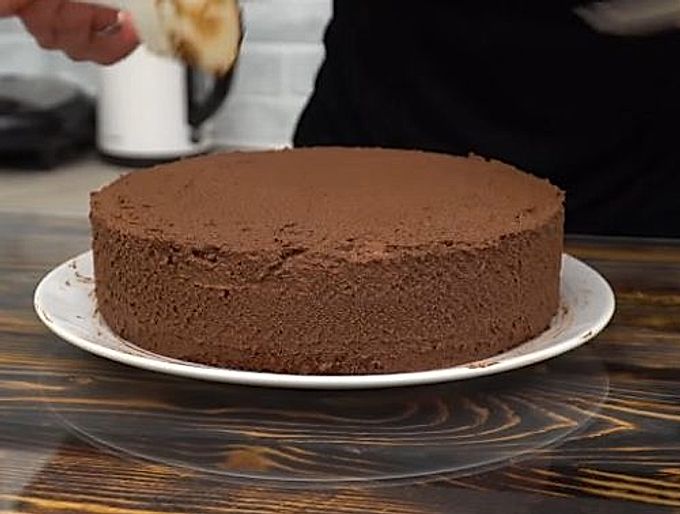 12. Meanwhile, in a small saucepan, combine all the chocolate fudge ingredients. Make sure there are no lumps. Next, you need to put on a medium-level fire and stir constantly. After the mass has boiled, cook for about a minute.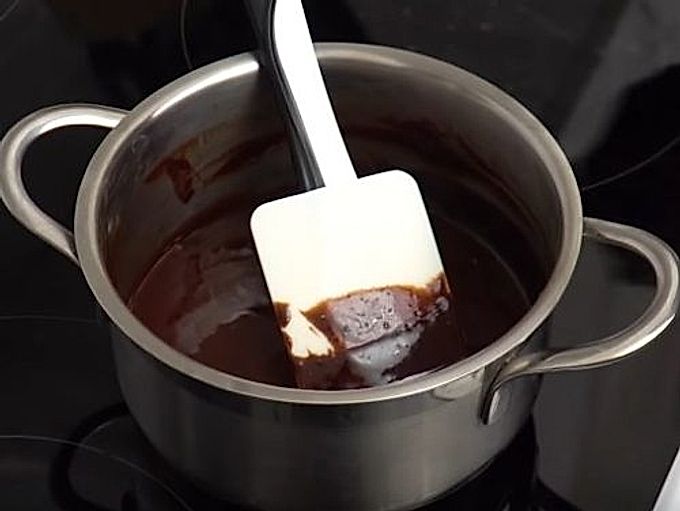 13. Pour the finished fondant over the cake and refrigerate for another 1.5-2 hours. If you want to decorate the cake additionally, it is better to do this before the fondant sets.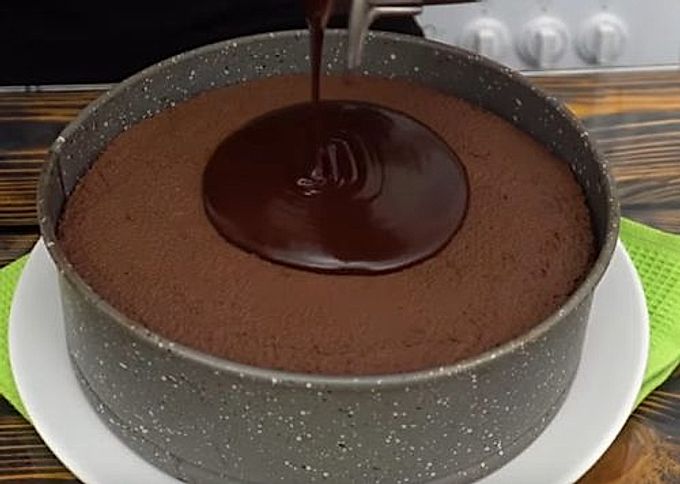 You can use ready-made chocolates or wafer rolls to decorate your homemade chocolate cake. You can sprinkle it with chopped nuts or make grated chocolate decorations. Get creative and don't be afraid to experiment.
Homemade Chocolate Coffee Cappuccino Cake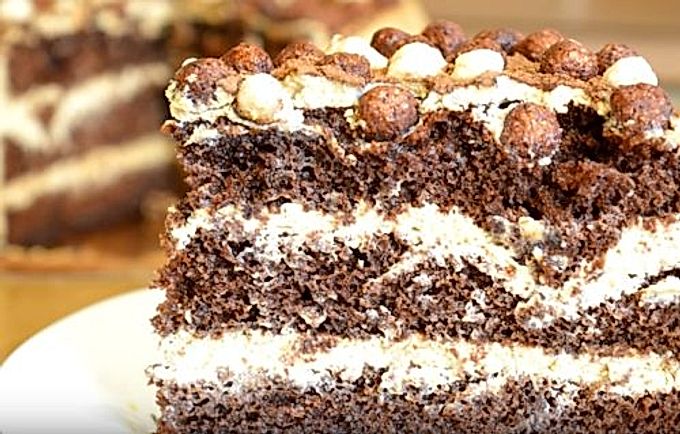 This delicate chocolate cake with a pronounced coffee taste will be appreciated not only by lovers of this noble drink. The astringent chocolate-coffee taste obtained from coffee and cocoa is softened by an airy butter cream. For decoration, cocoa powder or fresh berries are perfect, which will successfully set off the rich taste of the cake. The chocolate cake itself, thanks to the porous structure of the biscuit and the airy cream, turns out to be very light, unusually tasty and juicy. Please note that when preparing the cream, all products are taken cold. Ideally, they should sit in the refrigerator overnight.
It will be needed for a biscuit (mold diameter 20-22 cm):
chicken egg - 3 pcs.;
cocoa powder - 30 gr.;
sugar - 150 gr.;
vanillin - 1 gr.;
milk - 60 gr.;
sunflower or olive oil - 4 tbsp. l .;
flour - 110 gr.;
baking powder - 1 tsp;
soda - 1/3 tsp;
salt - 1/3 tsp
It will be needed for the cream:
whipping cream (minimum permissible fat content 33%) - 500 ml;
freshly brewed coffee - 150 ml;
sugar - 3-4 tbsp. l.
It will be needed for impregnation:
freshly brewed coffee - 200 ml;
sugar - 2-3 tbsp. l.
Cooking steps:
1. Break the eggs into a beating bowl, add salt and beat on low speed with a mixer for no more than 1 minute. Add sugar and vanillin and beat on high speed for about 10 minutes until a fluffy, firm foam is obtained.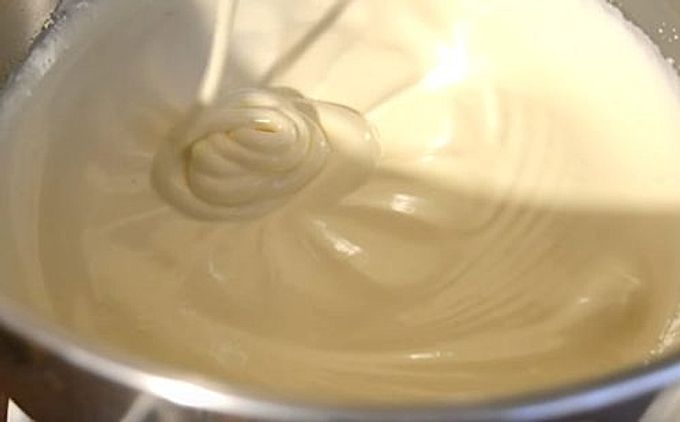 2. Add butter and milk and beat at low speed for about half a minute.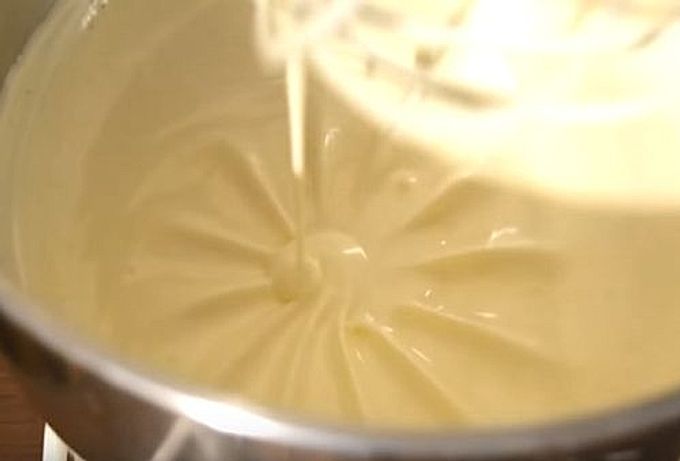 Things to know (Q&A)
How long do you bake an 8x8 cake?
In general, 8-inch square cakes -- and 9-inch round cakes -- cook for approximately 25 minutes , if the cooking temperature is around 325 to 350 degrees Fahrenheit. To ensure that the cake cooks for the appropriate length of time, start testing it for doneness after 15 minutes .