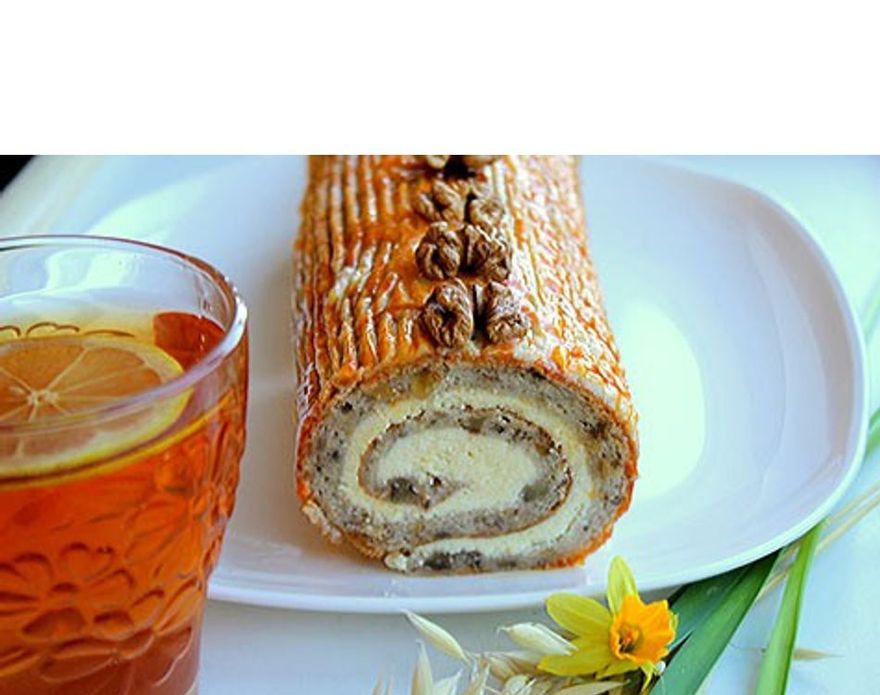 It has been noticed that many chefs are afraid of such baked goods as rolls. Either they do not curl, then they break, or the baked biscuit looks more like a sole than an airy pastry. There are many fears, but I still want to try.
I would like to talk not about the classic biscuit roll, although this will probably be in time, but about a sort of roll cake that I have been making for a long time and with success. Since there have been no failures yet, I can safely offer you to roll the next, or maybe even the first roll in your life, and enjoy delicious pastries for tea.
I always made this roll with cottage cheese, the name of which is ricotta. It is softer and fatter than usual, and you can easily make it yourself at home. I'll tell you very quickly how to do this.
You need 1 liter of milk, 250 grams of 33% cream, half a teaspoon of salt and 2 tablespoons of lemon juice. Pour milk, cream into a saucepan, add salt, stir and bring almost (!!) to a boil. If you have a thermometer, then bring it to 80-90 ". After that, remove the mixture from heat and add freshly squeezed lemon juice, stir gently, close the lid and let stand for 5 minutes.
Take a colander, put cheesecloth in it in several layers and discard the contents of the pan. Let the whey drain. By the way, it makes delicious pancakes, so do not pour it out (put the colander in a bowl). Well, that's all, the ricotta is ready.
The output of the finished product is about 300 grams. Try it, the ricotta is tender, fatty and delicious. Really very similar to the store.
And here, for the sake of experiment, I decided to cook with the simplest 9% cottage cheese. Everything worked out great, though the taste came out ... how can I say ... this is simpler. It is creamier with ricotta.
General \ asset cooking time: 1 hour 45 minutes \ 25 minutes
Servings Per Container: 8 Servings
Caloric value (100g): 202 kcal
Cost: average cost
How to make banana curd roll cake
Chicken egg - 4 pcs.
Wheat flour - 60 g
Sugar - 130 g
Banana - 230 g
Walnuts - 50 g
Baking dough - 0.5 tsp
Cottage cheese - 400 g ricotta
Milk - 3 tbsp
Vanilla essence - to taste
Chocolate - optional
Powdered sugar - 1 tbsp
Preparation:
I have a square baking dish measuring 25 by 35 centimeters, which I make sure to cover with baking paper.

We start cooking with the curd filling. Everything is extremely simple here. Put cottage cheese in a blender, 1 egg (egg weight 70-72 grams), a few drops of vanilla essence, 100 grams of sugar and milk. Stir until smooth and pour into a mold. Carefully, evenly level over the entire surface. Set aside.

Next, chop the walnuts with a knife, setting aside a few pieces as desired for decoration (you can then weigh not 50, but 70 grams).

Let's take a dough. Take two bowls and divide the remaining 3 eggs into yolks and whites (eggs weighing 66-70 grams). Pour the whites into one bowl, and the yolks into the other. By the way, if even a little yolk gets into our proteins, then they simply won't beat up. So be careful when separating. Beat the yolksat high revs for two minutes. They will brighten and increase in volume. Add 30 grams of sugar and beat for another three minutes. Set aside.

Now proteins. Be sure to wash the whisk attachments with which you whipped the yolks.

At high speed of the mixer, beat our proteins until soft peaks. I timed it - it took me three minutes.

The banana must be ripe. Peel and simply grind it in a bowl, with a fork, into a puree.

Sift flour together with baking powder. In general, many people ignore this point. But in vain! The flour is saturated with oxygen and the baked goods are more airy. And it is guaranteed that no garbage will get into your baked goods, which may well end up in our flour.

Add chopped nuts, mashed banana and baking powder to our whipped yolks. Stir everything up