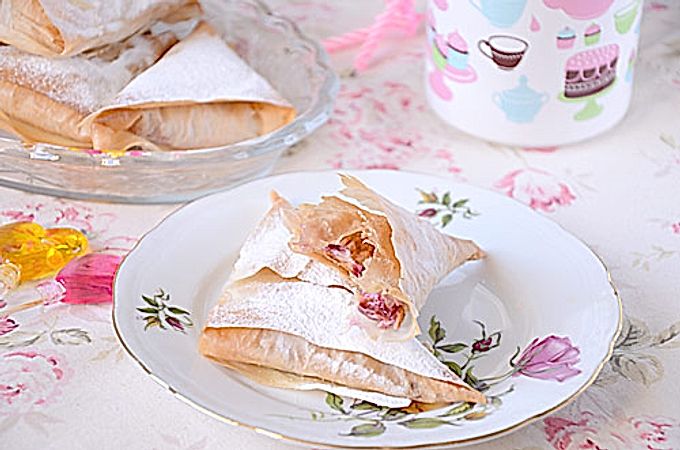 I often use frozen cherries at home: firstly, this is a product that is sold in any store and is available all year round, and secondly, all the "dirty" work has already been done for me: the cherries were collected, the seeds were removed, frozen and packaged.
My today's recipe is unusual in one ingredient - this is the filo dough, which became a kind of discovery for me! This is my first experience with this dough, but if you don't sell it, it doesn't matter - you can easily replace it with a puff one, of course. Without greasing it with oil and forming puffs that are simple in shape.
General \ asset cooking time: 1 hour \ 20 minutes
Servings Per Container: 10 Servings
Caloric value (100g): 281 kcal
Cost: average cost
How to make cherry filo dough triangles
Filo dough - 4 pcs. (sheet)
Cherries - 150 g frozen
Cottage cheese - 250 g soft, pasty
Powdered sugar - 3 tbsp
Butter - 60 g
Preparation:
First, we need to completely defrost and dry the cherries well.

If you have not found a pasty curd, you can use ricotta cheese or rub regular curd through a sieve (weigh it first if it contains too much liquid).

Add 2 tablespoons of powdered sugar to the cottage cheese and cherries, mix. It's not scary if the curd turns pink.

Carefully unfold the filo dough roll. We need 4 sheets for this amount of filling, we turn the rest back and freeze until next time. We cut each sheet along the long side into equal strips (the width of the strip is about 7-8 cm). You need to work with the filo dough quickly, otherwise it dries instantly and becomes brittle.

Grease each strip generously with melted butter. Wantgive a few words to the filo dough - these are the thinnest translucent stretch sheets, which are very difficult to cook at home without much skill, since it is cooked practically without adding water and fats, then to get excellent baking. It is simply necessary to lubricate it with oil.

Put 1 tablespoon of the filling on the edge of the strip.

We fold it with a corner, as shown in the picture (we try to do this carefully so as not to tear the thinnest dough).

And again we fold in the same way. So, folding, we will end up with a strip of dough and get a triangle.

Carefully lay out the triangles on a baking sheet lined with baking paper, bake in an oven preheated to 180C for 30-35 minutes.

Sprinkle the finished trianglesthe remaining icing sugar and serve warm.