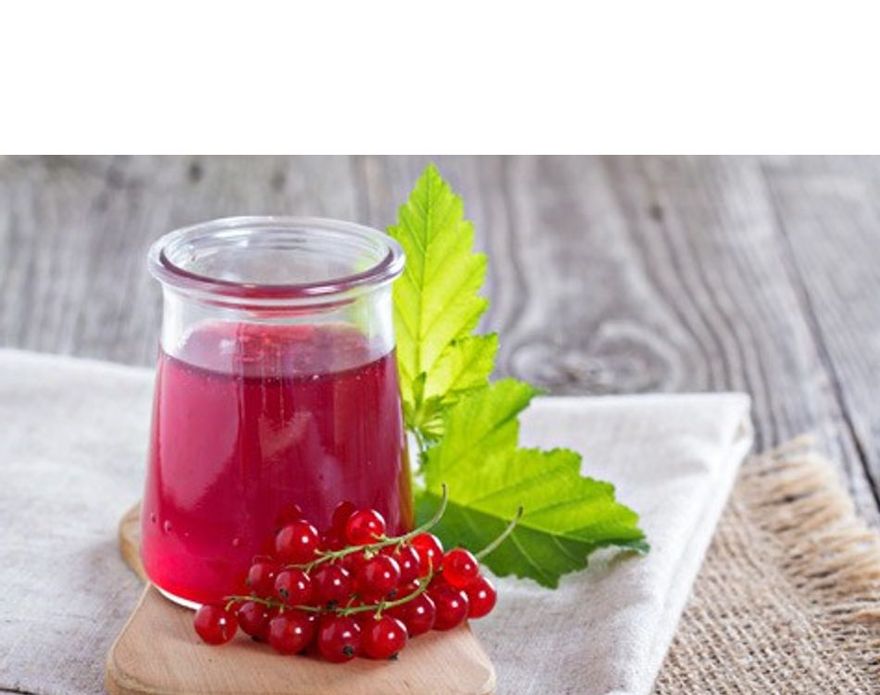 Red currant jelly is a very simple and at the same time interesting type of blanks. There is such a quantity of pectin in red currants that when cooked with sugar, it itself very quickly gelates, so you can make jelly without any additives from two ingredients: berries and sugar.
In this case, the ratio of berries to sugar is used one to one, since red currants are quite sour. From this amount of products, about 500-600 ml of currant jelly will be obtained (depending on how carefully the berries are squeezed out when straining).
General \ asset cooking time: 30 minutes \ 20 minutes
Servings Per Container: 20 Servings
Calories (100g): 218 kcal
Cost: very economical
How to make red currant jelly
Red currant - 600 g
Sugar - 600 g
Preparation:
The first step is to rinse the currants and remove the twigs. In principle, you don't need to touch the twigs, somehow I read the advice to leave them and cook with the berries, because in the process of making jelly, we will still filter it. But in my experience, straining a hot mass of berries along with twigs is much more difficult, therefore, I prefer 10 minutes of meditative cleaning.

So, put the clean berries in a saucepan and crush with a potato pusher (or other suitable devices). Then we turn on a strong fire, bring the berries with juice to a boil, reduce the heat and cook with a slight "bubbling" for 10 minutes.

Next, add all the sugar to the future jelly, raise the heat again and bring the mixture to a boil. We boil for about seven minutes. During this time, you need to prepare a sieve and dishes into which we will filter the juice. If you don't havea fine sieve is enough, you can take a large one and line it in 1-2 layers of gauze.

Pour the berry mixture into a sieve with a ladle and filter, squeezing well with a spoon. Be careful, the mixture will splatter, do not burn yourself.

Rinse the saucepan in which you originally boiled the berries and pour the strained juice into it. Return to the stove and bring to a boil, then simmer for one minute. In this case, there is no need to check if the mixture has thickened enough, currant jelly will set in any case. Remove from heat and pour into jars.

With red currant jelly, you can come up with many simple and delicious desserts, both lean and not. For example, immediately after cooking, I pour part of the currant jelly into glasses, after solidification, I spread natural yogurt and fresh berries on top: practicallyyou get a delicious dessert without effort.
Things to know (Q&A)
What is red currant jelly made from?
Redcurrant jelly is one of the easiest preserves you can make with the summer's bounty. Red currants are naturally high in both acid and pectin, so all you need is the fruit and a bit of sugar for a spectacular two-ingredient currant jelly. Redcurrants are one of those crops you'll never see in the grocery store.
What is a substitute for red currant jelly in a recipe?
If you are not able to find redcurrant jelly then other preserves such as bramble (blackberry) jelly or quince jelly (not membrillo) would be good alternatives. Otherwise add a teaspoon of sugar instead of the redcurrant jelly during cooking.
Do redcurrants contain pectin?
Red currants are high pectin so you don't need to add any lemon juice.
How long does it take red currant jelly to set?
Ladle the hot jam into sterilized jars and wipe the rims clean before screwing on the lids. For long-term storage process in a water bath canner for 5 minutes. Carefully remove the jars and let them sit undisturbed for 24 hours before removing the lid rings.
Do currants contain pectin?
Nope! Red Currants are not only high in vitamins, they are also high in natural pectin and acidity which enables it to gel beautifully without any additional pectin. Red currants and sugar are all you need! 19
What is red currant jelly made of?
Redcurrant jelly starts with fresh-picked red currants . Ideally, they're picked fresh just before making the jam, and the stems are left on. Yes, that's right. There's no need to stem the currants, and the jelly actually turns out better if they're left in. 11
How do you thicken red currant jelly?
Add pectin .

Whisk a tablespoon of powdered pectin (preferably the no-sugar-needed variety) into the pot of cooking jam. Test for thickness and add another tablespoon if needed. 2
What does red currant jam taste like?
What does currant jelly taste like? It has a sweet-tart flavor , making it a delectable topping for many dishes. In addition to being cooked into jelly, currants can be eaten raw and enjoyed in fruity salads and cocktails. 8