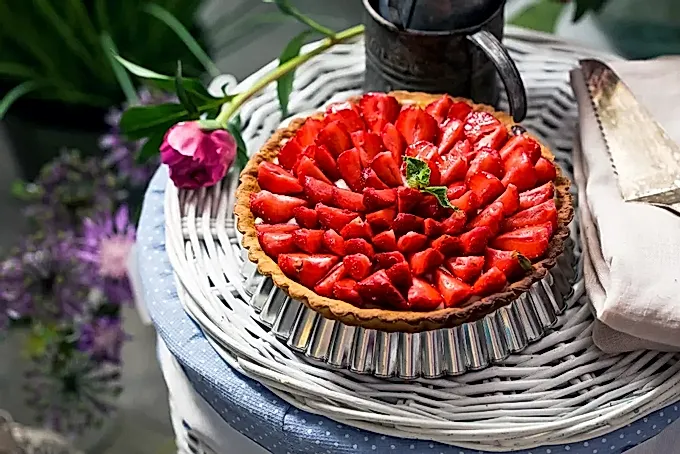 This pie is one of the most summertime strawberry shortcrust pastry pies. This is the perfect solution for a family meal. Prepares quickly and easily. Melting and tender custard with dark chocolate bitterness - lick your fingers!
General \ asset cooking time: 45 minutes \ 30 minutes
Servings Per Container: 4 Servings
Calories (100g): 229 kcal
Cost: average cost
How to Make Strawberry Custard & Chocolate Tart
Shortbread dough - 1 pc. Sheet
Strawberry - 250 g
Milk - 200 ml
Chicken egg - 2 pcs.
Butter - 150 g
Black chocolate - 50 g
Flour - 2 tablespoons
Sugar - 70 g
Vanilla essence - to taste
Preparation:
To prepare a 20 cm strawberry tart with custard and chocolate, you will need ready-made shortbread dough, strawberries, milk, egg, butter, black chocolate, flour and sugar.

It is better to grease the bottom of the form with a little butter. After that, carefully put the dough into the mold.

The tart cake should be baked in the oven for 10-15 minutes at 180.0. In order to prevent the dough from rising during baking, you need to put foil on it and cover it with beans.

Separate the whites from the yolks. To make the custard, you only need the yolks.

Dark chocolate is ideal for this recipe. Build a water bath and melt chocolate on it.

It's time to make the custard. For this you need milk,flour, yolks, sugar and vanilla essence.

Pour milk into a saucepan and put it on medium heat, do not bring to a boil.

Add sugar, yolks, essence and flour to warm milk.

Stir until the cream thickens. Stir especially well at the bottom, otherwise lumps may form in the cream.

After thickening and the first bubbles, remove from the stove. But again, do not bring it to a boil so that the yolks do not curl as you cook.

Add butter to the hot custard and mix until smooth.

Grease the finished shortcrust pastry mold with chocolate. Then send it to cool in the freezer for 15 minutes.

Cut the strawberries into 4 pieces.

Pour the custard into a mold with chocolate.

Put the strawberries on a layer of custard.

Garnish with mint leaves and powdered sugar to serve strawberry tart. Enjoy your tea and summer mood!