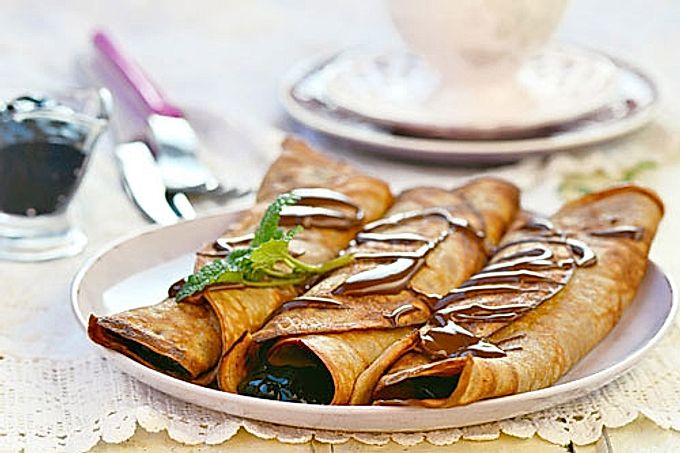 Pancakes for breakfast, what could be tastier? Only chocolate crepes with blueberry filling.
Cooking pancakes takes some time, so it's more like a weekend breakfast, or prepared in advance, in the evening, and slightly warmed up in the morning - absolutely nothing will happen to the pancakes in the refrigerator, it's checked. Or maybe you want to eat them for dessert, then prepare a double portion, because from such a delicacy you can't pull off either kids or adults by the ears, I declare this to you responsibly!
General \ asset cooking time: 45 minutes \ 25 minutes
Servings Per Container: 3 Servings
Caloric value (100g): 222 kcal
Cost: very economical
How to make chocolate blueberry pancakes
Flour - 75 g
Cream - 160 ml
Blueberries - 300 g
Sugar - 60 g
Vegetable oil - 80 ml
Corn starch - 25 g
Powdered sugar - 60 g
Butter - 40 g
Cocoa powder - 5 g
Cinnamon - 1 g
Egg - 2 pcs.
Water - 2 tablespoons warm
Water - 100 ml or wine
Preparation:
The dough for these pancakes is prepared with cream. Take liquid cream with a fat content of 10 to 20 percent, no more. If only very heavy cream is on hand, dilute it with milk to the desired percentage. And try not to substitute milk for cream, they are all the zest of this dough.

With a mixer or whisk, beat 2 eggs, powdered sugar and a pinch of cinnamon in a suitable bowl. It is possible with sugar, but then beat for longer to dissolve the sugar.

Pour in slightly warmed cream, two tablespoons of warm water and sift flour with cocoa powder. Beat again and pour in vegetable oil. Beat well and put in a warm place for 20 minutes. Beat the dough again until smooth.

In the meantime, the dough has reached a condition and you can start to fry the pancakes.

Take a suitable, not very large frying pan and heat it well. Preparea plate where you will put the pancakes and a piece of butter to coat them. Also place a small bowl of vegetable oil for greasing the pan and a silicone brush.

When the pan is well heated, brush it with oil and pour a small ladle over the pastry. Spread the dough over the pan in a circular motion and fry the pancake over medium heat for 1 minute. Flip over and fry for another half minute.

Fold the finished pancakes in a stack and coat well with butter. Before serving, place 2 tbsp of blueberry filling in each pancake and roll up the pancake. You can also pour melted chocolate or ready-made chocolate sauce over the pancakes.

While the dough is standing, prepare the blueberry filling. Blueberries are tasty and healthy in all respects - what you need for breakfast.

I use frozen blueberries, they alwaysI have it in my freezer, I like blueberry yogurt. Naturally, you can take fresh or replace blueberries with blueberries.

Pour the berries into a small saucepan and sprinkle with sugar. Bring to a boil over low heat.

Dissolve corn or potato starch in 100 ml of cold water and pour into boiling berries. While stirring, cook until thick.

If the dessert is intended only for adults, replace the water with red dry, semi-dry or semi-sweet wine, it will be even tastier. Remove blueberries from heat and cool.