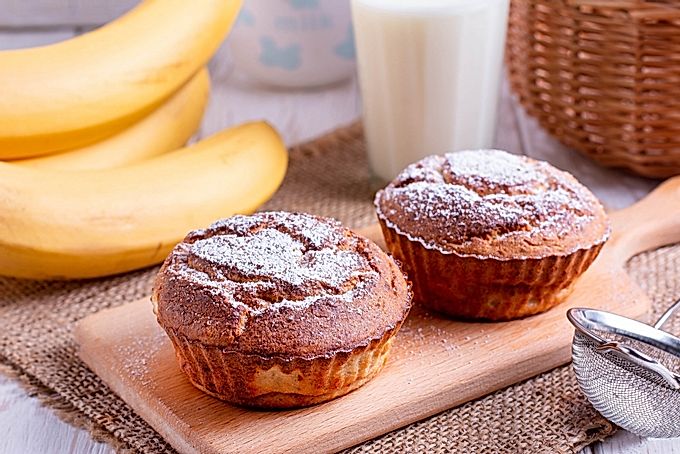 When bananas start to become covered with dark specks, they spoil very quickly and there is a risk of not having time to use them. In this case, I put bananas in baking, with bananas it turns out to be especially aromatic and sweet, and therefore, you can reduce the amount of added sugar or completely exclude it from the recipe. This banana casserole is amazing! Delicate, soft, melting in your mouth!
General \ asset cooking time: 40 minutes \ 10 minutes
Servings Per Container: 2 Servings
Calories (100g): 140 kcal
Cost: very economical
How to make a banana casserole
Banana - 1 pc.
Cottage cheese - 140 g
Chicken egg - 1 pc.
Rice flour - 45 g
Sour cream - 1 tsp
Sugar - 1 tsp
Baking dough - 0.5 tsp
Preparation:
In a deep bowl, combine a large chicken egg and sugar (instead of sugar, you can use a sweetener to taste). Beat with a mixer until fluffy.

Add cottage cheese and sour cream of any fat content. I advise you to take cottage cheese dry, so that the dough after baking does not turn out to be too wet.

Break a ripe banana into pieces, place in a blender glass or deep bowl and puree with a hand blender. The riper the banana, the sweeter the casserole.

Add banana puree to the liquid mass, sift rice flour with baking powder here. Rice flour gives the banana casserole a delicate texture. You can take any other flour, but then the finished baked goods will not be so "airy".

Put the banana dough in the molds (I used silicone molds, but you can takeceramic small or one larger) and send to an oven preheated to 180 degrees for 25-30 minutes. It is best to bake the banana casserole in small tins so that it bakes well.

Be sure to check the readiness of the products with a toothpick. If you pierce the finished baked goods and take out a toothpick, then it should be dry and clean.

Remove the prepared casserole from the molds, let cool and decorate as desired. I sprinkled it with powdered sugar.

Banana casserole turns out to be very fragrant and tender. It has a slightly moist porous texture.