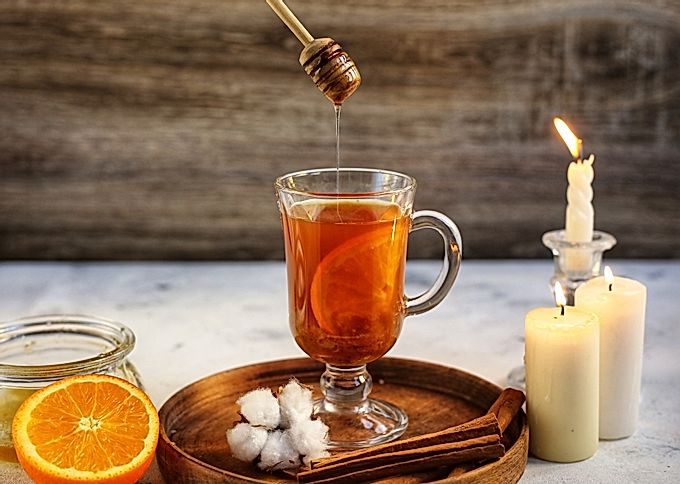 Masala tea is a traditional drink in India and neighboring countries. And it is prepared, as a rule, with milk. But today I propose to brew this simple and affordable recipe for an unusual masala tea without milk, which will give everyone a boost of good mood. It is believed that this tea has a healing effect on the body!
General \ asset cooking time: 10 minutes \ 6 minutes
Servings Per Container: 4 Servings
Calories (100g): 30 kcal
Cost: very economical
How to make orange masala tea
Water - 1 l
Black tea - 2 tbsp
Orange - 2 pcs.
Ginger - 0.5 tsp ground
Cardamom - 0.5 tsp ground
Carnation - 4 pcs. asterisks
Black pepper - 1 pinch (s) ground
Cinnamon - 2 pcs. 2 sticks
Honey - to taste or sugar
Preparation:
Prepare all ingredients.

Crush all spices except cinnamon in a mortar or grind in a coffee grinder.

For this recipe, you can use fresh ginger instead of ground ginger. Then it must be grated and taken in the amount of 1 teaspoon.

Wash oranges and pour over with boiling water. Cut into circles.

Place a pot of water on the stove and let it boil. Put half of oranges (1 pc.), Black tea and spices in boiling water. Boil for 3-4 minutes.

Strain the drink through a sieve, add honey or sugar to taste and decorate with orange slices. Enjoy your tea!
Things to know (Q&A)
Is it good to drink masala tea everyday?
The anti-inflammatory, antifungal, and anti-bacterial properties of masala tea of masala tea prevent colds and a nasal congestion. The immunity-boosting clove and ginger will also help you keep a cough away. One glass of masala tea a day is sure to keep you feeling strong and free of a cold.
What are the benefits of drinking orange peel tea?
Both the properties aid the weight loss process. Cardamom: The good, old elaichi is well-known for its weight loss benefits. This aromatic spice helps in regulating digestion and fights bloating. It is also packed with melatonin, a nutrient that aids the fat burning process in our body.
Is masala tea good for weight loss?
When you say orange tea, it means tea with orange flavor . You can enhance flavor further with ginger, cinnamon, cardamom, and cloves. You can also add any tea of your choice like green tea or black. A little lemon juice or orange can definitely add a flavor boost.