Probably each of us faced the problem of where to put the old bread. It seems to be a pity to throw it away, but it is no longer tasty. The solution to this problem was found by the French. They came up with a recipe for sweet toast, or, as they are sometimes called sweet croutons. In France, this dessert dish is called Pain perdu, which translates as "lost bread".
All my childhood, my mother cooked this delicious dish for breakfast for me. And only now, being a professional chef, I found out that it turns out to be French toast. Yes, as the saying goes, "live and learn". In the classic French recipe, dark rum is added to the croutons, but then see for yourself if you need it or not.
Ingredients for 8 toasts
Stale bread 8 slices.
Chicken egg 1 pc.
Milk 300 ml. (you can replace 100 grams of milk with heavy cream)
Sugar 50 gr.
Vanilla extract 5 ml. (can be replaced with vanillin or vanilla sugar)
Dark rum 5-10 ml. (optional)
Butter for frying. (can be replaced with vegetable)
Making sweet french toast
Combine the egg, milk, sugar, rum and vanilla extract in a bowl and beat thoroughly until smooth.
Put the slices of bread in a deep dish, and fill them with the milk mixture. Keep the pieces of bread in the milk mixture for a few minutes, remember to turn it over so that it is evenly soaked. The bread should not just get wet, but absorb this mixture.
Put the butter in a frying pan, melt it over medium heat, lay out a portion of the croutons and fry them on both sides until golden brown.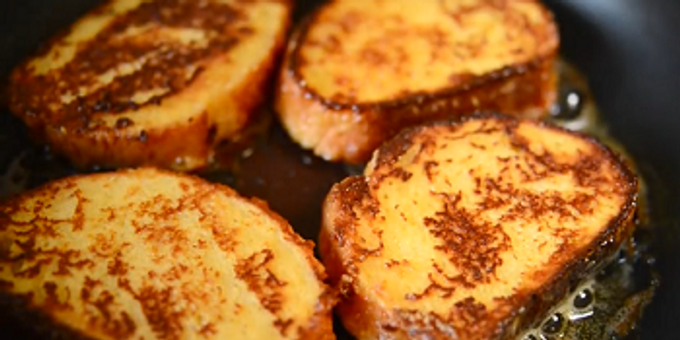 Put the fried French toast on a plate, sprinkle with powdered sugar and serve.
Bon Appetit!
On a note
While frying the croutons, they can be additionally sprinkled with sugar.
Whipped cream can be used to serve French toast.
French toast goes well with berry sauces. Also, not a bad combination is obtained with caramel sauce.
Fresh berries can be served with sweet croutons.