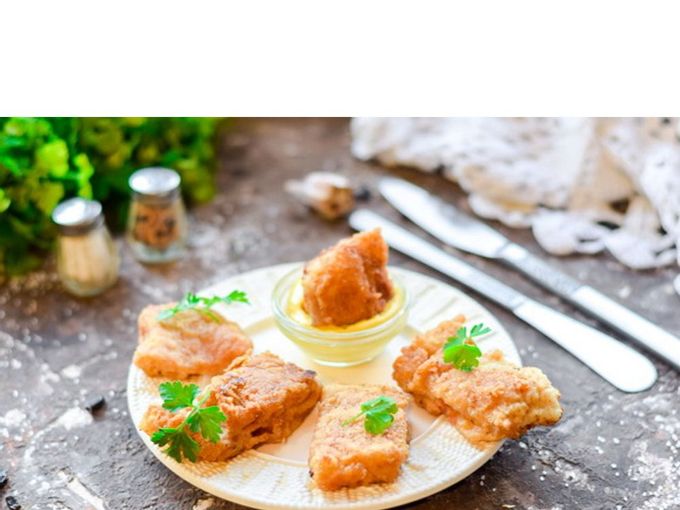 Option 1: Fried pollock - a delicious recipe
Fried pollock is a tasty and quick-to-cook fish that will please everyone without exception. Pollock fillet must first be breaded, and then fry, as a result, we get a ruddy crust on top, and inside the tender meat of white fish. You can serve such fish to the table with various side dishes - potatoes, cereals or salads, but breaded fillet is also perfect for gatherings in a friendly company, men will appreciate such an appetizer with a glass of cold beer, especially if you serve delicious sauce with the pieces. Well, let's get down to business as soon as possible.
Ingredients :
Pollock - 250 g
Salt, pepper, paprika - to taste
Bread crumbs - 2 tbsp
Whole grain flour - 2-3 tablespoons
Lemon juice to taste
Vegetable oil - 2 tbsp
Cooking process
Prepare all products according to the list. Remove the pollock carcass from the freezer in advance, peel it from the skin and remove the ridge. Check the cut fish for bones. Cut the pollock into portions.
Season with salt pollock pieces and season with ground pepper, sweet paprika. Sprinkle some lemon juice if desired. Stir well.
Take a clean plastic bag, transfer whole grain flour and bread crumbs to it, add spices if desired. Mix.
Transfer the pollock pieces to a bag with flour and breadcrumbs.
Close the bag and shake it off a couple of times. Then get the breaded fish.
Heat vegetable oil in a frying pan, transfer pieces of fish and fry on both sides for several minutes over medium heat. Remove excess oil with kitchen towels and serve the browned slices to the table.
Bon Appetit!