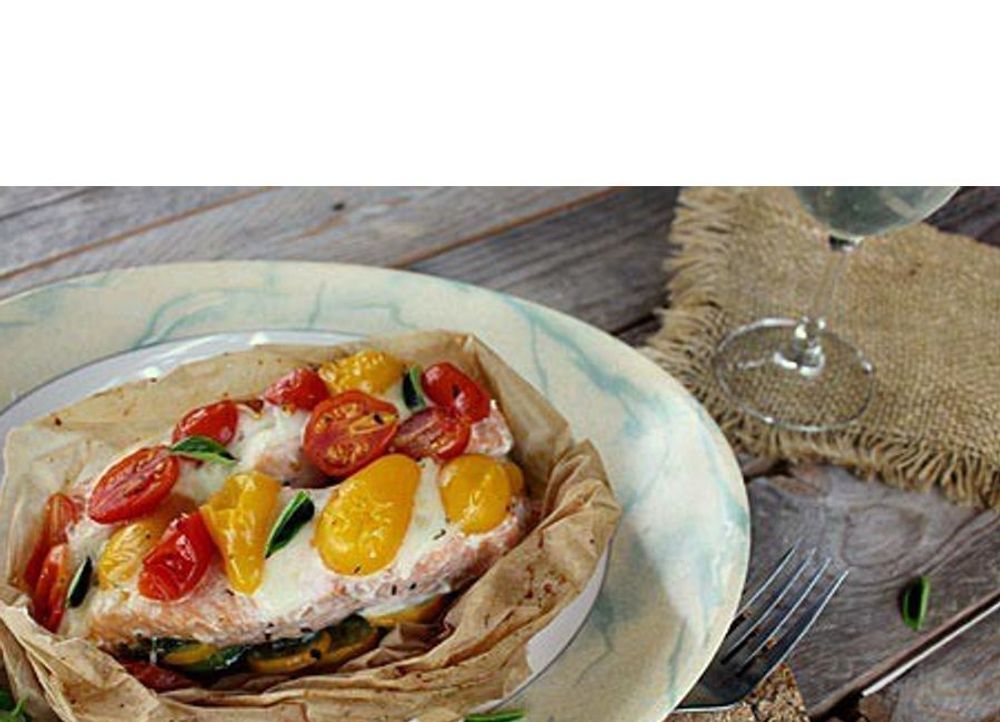 Pink salmon is one of the most popular types of fish on our tables. It is loved for its affordability, low cost and ease of preparation. It is believed that the meat of pink salmon is somewhat dry - when compared, say, with salmon, salmon or trout. But, knowing the little secrets of cooking this wonderful fish, you can easily cook a very juicy, aromatic and healthy dish.
Today I will show you one of the simple options for cooking pink salmon baked with zucchini, tomatoes and cheese. This is an option for a light, dietary dinner, and for a festive feast is very suitable.
In order to prepare fish and vegetables for baking, it does not take much time, there is nothing complicated here.
All preparatory work can be done in advance, and already baked in the oven when the guests are on the doorstep.
We will bake in a parchment paper envelope, but you can easily use baking paper or food foil.
Using this cooking method, we get a juicy, aromatic dish with minimal use of fat. This way the natural taste of the products and their beneficial properties are preserved as much as possible.
Pink salmon with zucchini and tomatoes is a complete dish that does not require an additional side dish. The fish, soaked in vegetable juices, becomes very tender, juicy and aromatic. In addition, when serving it looks spectacular and very appetizing - it is served directly in the same envelope in which it was baked, it just remains to transfer it to plates.
Each envelope is a full serving for one person.
General \ asset cooking time: \
Servings Per Container: 2 Servings
Caloric content (100g): 115 kcal
Cost: average cost
How to cook pink salmon in the oven with tomatoes and cheese
Pink salmon - 400 g fillet
Cherry tomatoes - 15 pcs.
Mozzarella - 50 g
Zucchini - 4 pcs. small
Garlic - 1 tooth
Olive oil - 2 tbsp
Salt to taste
Black pepper - to taste
Dried basil - to taste
Basil - 1 handful (s) to serve
Things to know (Q&A)
How long does it take salmon to cook in oven?
Preheat the oven to 450 degrees F. Season salmon with salt and pepper. Place salmon, skin side down, on a non-stick baking sheet or in a non-stick pan with an oven-proof handle. Bake until salmon is cooked through, about 12 to 15 minutes .
What temperature should salmon be cooked at?
According to the FDA, salmon should be cooked to an internal temperature of 145° . When working with good quality salmon, we tend to check for doneness with a fork rather than a thermometer. Once the salmon easily flakes with fork, it's good to go! Just be sure you're checking the thickest part of the fillet.
Do you cook salmon covered or uncovered in the oven?
Oven-roasted salmon doesn't have a set temperature for doneness, so how long to bake salmon depends on the thickness of your fish. ... Bake salmon, uncovered, 4 to 6 minutes per ½-inch thickness .
Do you wrap salmon in foil when baking?
Rich in protein, vitamin B12 and omega-3s, salmon keeps your heart healthy and can turn your meals into a feast. Try cooking baked salmon in foil for a quick, delicious weekday dinner. Wrapping the fish in foil will lock in the moisture and boost its flavor .