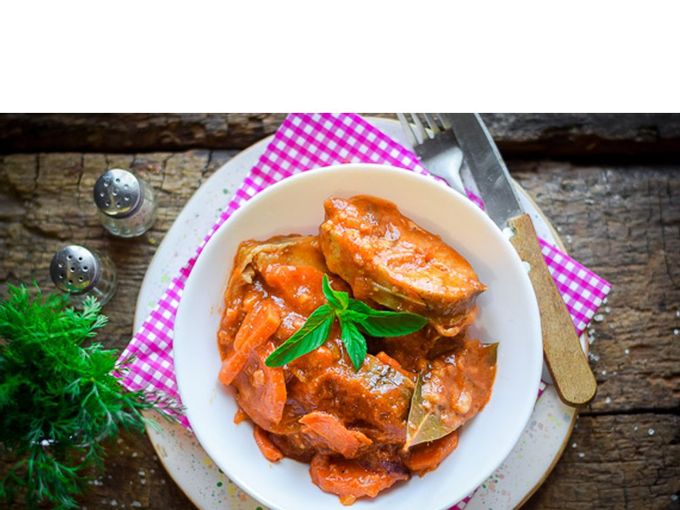 Pollock with carrots and onions in tomato - a step by step recipe with a photo
It is easy to prepare a simple and tasty dish, so that it does not greatly affect the budget! Today I suggest you pay attention to an affordable recipe - pollock with carrots and onions in tomato. The recipe is very simple, absolutely anything can be handled, among other things, we will cook in a pan, which is already good, since some simply do not have an oven.
You need to choose more pollock, remove the fish from the freezer in advance, give time to completely defrost. Since the fish is obtained with sauce, it will be very tasty to serve it to the table with mashed potatoes, rice or buckwheat.
Ingredients:
pollock s / m - 400 g;
tomato paste - 2 tbsp.;
water - 1 glass;
carrots - 1 pc.;
onion - 1 pc .;
salt, pepper - to taste;
vegetable oil - 40 ml;
bread crumbs - 4 tablespoons;
bay leaf - 2 pcs.
How to cook pollock with carrots and onions in tomato sauce in a pan
Prepare all the required ingredients according to the list. Defrost the fish in advance, peel and cut into medium-thick slices. Pour breadcrumbs into a bowl, mix the breadcrumbs with flour if desired. Breaded each piece of pollock from all sides.
Prepare vegetables - peel and rinse carrots and onions, dry them, cut the onions into half rings, cut the carrots into medium-sized cubes.
Heat vegetable oil in a frying pan, put breaded fish in oil. Fry pollock on both sides until golden brown. After that, remove the fish from the pan and set aside.
Add a little more oil to the same pan, toss the vegetables. Fry the carrots and onions for about a couple of minutes, stirring occasionally.
Add tomato paste, bay leaves, salt and pepper to taste to the fried vegetables.
Next, pour water into the pan, mix everything well, dip the pieces of ruddy fish into the tomato. Simmer the pollock under the lid for 10 minutes. Arrange the finished fish on plates, add a side dish and serve.
Enjoy your meal!