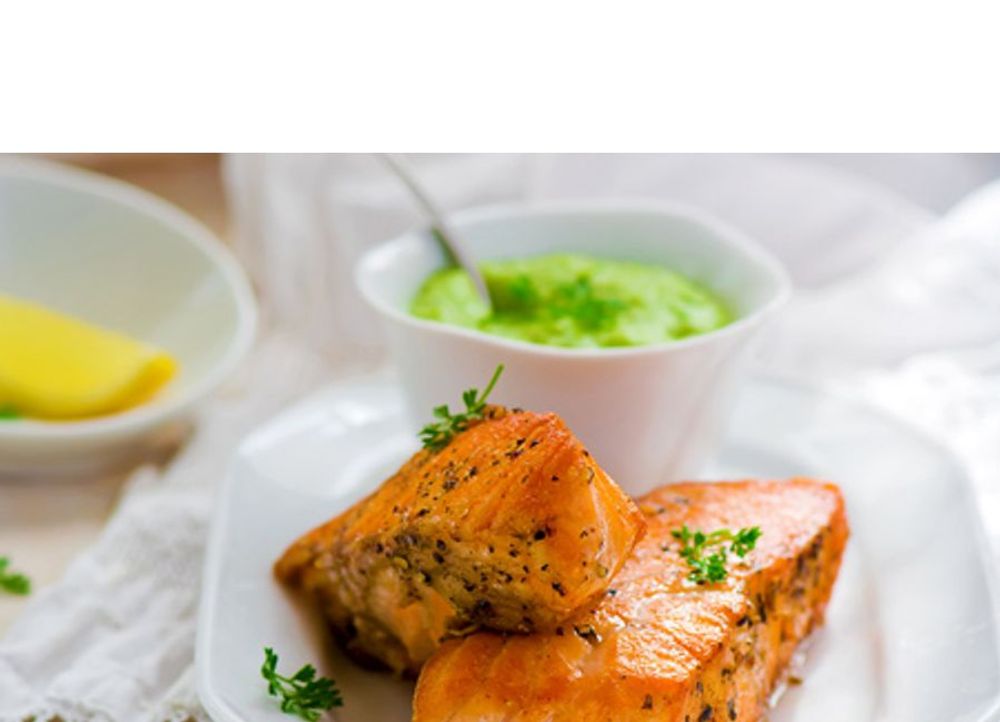 A bright and tasty summer dish can be prepared with salmon or trout, complemented with a refreshing green pea sauce. The combination of fish and peas, in my opinion, is just perfect, and how much use it is!
During the season, of course, it is preferable to use fresh peas, the rest of the time take fresh frozen ones from a trusted manufacturer.
General \ asset cooking time: \
Servings Per Container: 4 Servings
Calories (100g): 116 kcal
Cost: average cost
How to cook salmon with pea sauce
Green peas - 250 g
Salmon - 700 g
Shallots - 100 g
Cream - 100 ml
Olive oil - 1 tbsp
Butter - 1 tbsp
Broth - 200 ml fish or boiling water
Salt to taste
Black pepper - to taste
Sugar - 1 pinch (s)
Preparation: Step 1
We will prepare the sauce for salmon first, so that then quickly cook the fish and serve immediately, since the fish is cooked very quickly.

Chop the shallots very finely. If you can't buy shallots, you can take white onions, it has a milder taste, or a regular onion. Pour olive (or any vegetable) oil into a suitable volumetric, thick-bottomed saucepan, and when it warms up, add a piece of butter. As soon as the butter melts, add and sauté our chopped onion over low heat until soft, it should become transparent.

After that, add frozen peas to the onion, without defrosting directly, and, stirring, cook for several minutes.

After that, it's time to add liquid to the sauce: fish broth or, in its absence, just boiling water, and cream. You can take cream of any fat content,ranging from ten to thirty-five percent heavy cream, depending on this, the sauce will have a more or less creamy taste.

Now season our sauce to taste with a pinch of sugar, salt and pepper and turn it into a smooth puree with an immersion blender. For perfect silkiness, you can rub the sauce through a sieve, but this is not necessary.

The sauce is ready and you can quickly cook the fish. I usually buy a piece of chilled salmon on the skin, remove the skin, cut the fish into portions, remove the bones and then cook in the chosen way. For this recipe, you can take salmon or trout cut into steaks, if so familiar.

Salmon is a fatty fish, so to fry it, I did not pour oil into the pan, I just greased the bottom with a brush and that's it. I rinsed the pieces of fish, blotted with a paper towel, seasoned with pepper and salt andfried on all sides until fully cooked and ruddy, about ten minutes. Serve the fish immediately with pea sauce, herbs, lemon wedges.