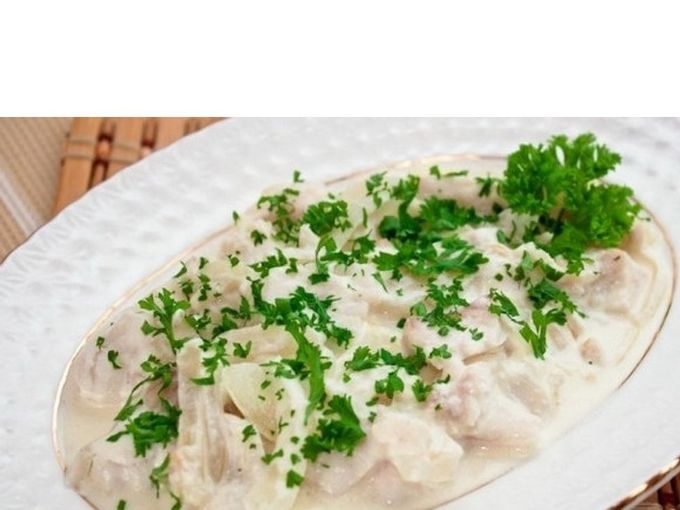 Option 1: Pollock in mayonnaise - a classic recipe
One of the most useful and affordable fish that can be quickly and easily prepared for lunch or dinner is pollock, and the most popular recipe is pollock marinated for a piquant taste in mayonnaise. It takes very little time and regular foods to cook it with a tasty and satisfying potato side dish.
Ingredients :
3 carcasses of fresh or frozen pollock;
Coarse table salt and coarse black pepper - to taste;
135 g quality fresh mayonnaise;
A little vegetable oil to grease the pan;
1 kg. fresh young potatoes;
2 sprigs of fresh dill.
Step-by-step recipe for making pollock in mayonnaise
Step 1:
The first step is to rinse and cleanse the fish of unnecessary things - cut off the head and tail, cut off the fins and clean the abdomen from the remnants of the entrails.
Step 2:
Rub the fish with salt and pepper to taste, if desired, you can add your favorite spices to taste. If necessary, the pollock can be cut into 2-3 pieces to make it easier to eat after cooking.
Step 3:
The fish should now be placed in a suitable sized kitchen bowl, covered with mayonnaise and given time for the fish to soak in the sauce and aromas.
Step 4:
While the fish is insisting, you need to start preparing the side dish. To do this, rinse the potatoes in running water, peel, cut into equal pieces, pour clean water and cook until tender. After cooking, drain the water, add the required amount of salt, hot milk and butter if desired, and make a puree. Cover the pot with a thick blanket to keep the puree hot.
Step 5:

To prepare pollock in mayonnaise, fry it in a pan in oil until tender, at least 20 minutes. For juiciness, you can put a lot of onion thinly sliced ​​into half rings under the fish, in this case, you will also have a delicious sauce for serving.
Fish is served with delicate mashed potatoes, sauce, if you have it left in the pan, sprinkle the fish with finely chopped fresh dill.