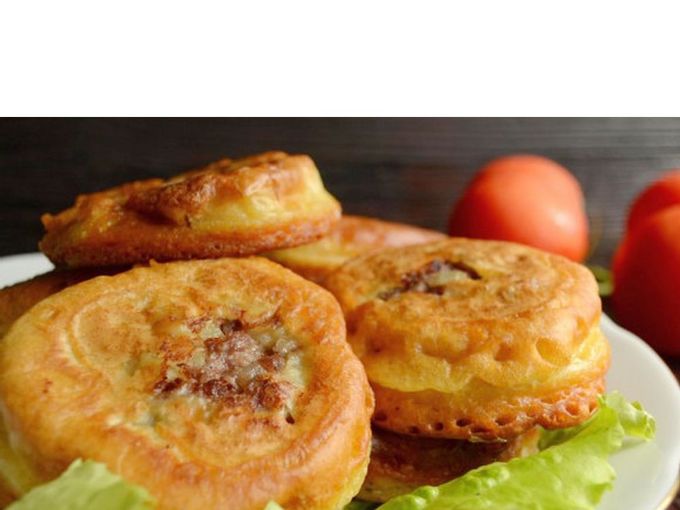 Option 1: The classic recipe for juicy whites without yeast on kefir
The classic yeast-free dough for frying whites is kneaded with kefir. To make the pies airy, soda is used instead of yeast. The ripper does not need to be extinguished; it is independently activated in a fermented milk product. The dough does not need a spread, it is enough for it to rest for twenty minutes.
Ingredients:
a glass of kefir, fat content not less than 3.2%;
a spoonful of sunflower oil;
three glasses of fine flour;
spoon 20% sour cream;
one egg;
salt, soda, refined sugar - 0.5 tablespoons each.
In the filling:
mixed minced meat - 400 gr.;
onion head;
three sprigs of dill;
ground pepper by hand.
A step-by-step recipe for delicious yeast-free whites
Step 1;
In a wide bowl, combine kefir with sour cream, salt, add butter, sugar and a loose egg. Whisk lightly, add soda and mix thoroughly.
Step 2:
As soon as the base starts to bubble, add flour. Add about a third, stirring until smooth, add the same amount and mix well again. Add the remaining flour gradually, crushing the dough with your hands. It should come out well sticky from the palms and soft. Do not hammer it with flour, otherwise the whites will be tough.
Step 3:
We cover the bowl with the dough with a linen napkin and set it aside for a while, the dough should rest for about twenty minutes.
Step 4:
While the dough is settling, you can prepare the filling. We peel the onion and rub it with a coarse grater for the minced meat. Add finely chopped dill, a little salt and ground pepper, mix thoroughly. For juiciness, you can add a little water or milk.
Step 5:
We cut the dough into plum-sized balls. Flatten them with a flat cake, spread a little minced meat in the center. Gather the edges above the filling in small folds so that a small hole remains, and lightly press down on the whitewash blank.
Step 6:
We spread the meat pies in well-heated oil, with the hole down. Fry on both sides until golden brown. The heating should be medium so that the meat filling has time to fry.
The peculiarity of kneading dough with kefir is that all products should be close to room temperature, so remove them from the refrigerator in advance. When frying, initially place the whites exclusively with the hole down, which will help to make them as juicy as possible. If you do otherwise, after turning, all the meat juice will drain into the butter.