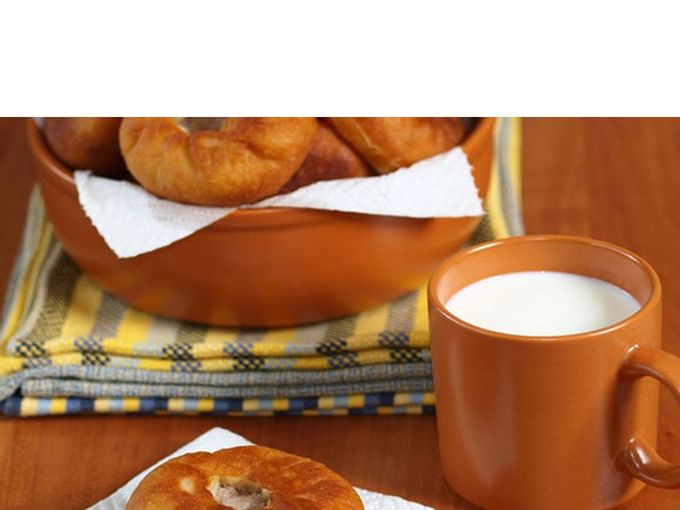 Option 1: The classic recipe for kefir whites
Delicious, juicy whites with a crispy crust will leave few people indifferent. We will cook them in a frying pan, based on prefabricated minced pork and beef with onions and spices. Knead the dough from kefir, yeast and other standard ingredients. The whites are fried in a large amount of vegetable oil.
Ingredients :
250 gr of prefabricated minced meat;
1/4 liter of kefir;
330 grams of flour;
1 dessert lies dry yeast;
1/2 teaspoon of salt;
1 teaspoon of sugar;
1 head of onion;
2 pinches of black pepper;
50 grams grows oil.
Step-by-step recipe for kefir whites
Step 1:
To make a fluffy yeast dough on kefir, we need a deep bowl.
Pour in warm kefir, add dry yeast sugar and two tablespoons of refined vegetable oil and mix.
Step 2:
Fill in about one hundred grams of flour, stir and leave to rise in a warm place.
Step 3:
When you see that the dough has risen strongly, add salt. Then add flour and mix with a whisk. At the end, knead the dough with your hands until a dense bun.
Cover the bowl with a towel and leave in a warm place for an hour. The dough will rise even more - what we need.
Step 4:
If you just took beef and pork, pass it through a meat grinder along with onions. Then season with salt, sprinkle with black pepper and stir.
We simply process the finished minced meat in a blender with onions and spices.
Our whitewash filling is ready. Let's wait for the dough to rise.
Step 5:
So, the dough has reached the required volume. You can start sculpting the whitewash. To do this, put the dough on a cutting board, knead it a little with your hands to release the air.
Divide into equal serving balls about the size of a chicken egg.
Step 6:
Roll each piece of dough into a circle and put the filling. Two tablespoons are enough. Now we carefully seal the edges so that there is a hole in the center. You will get traditional whites.
Shape each dough piece.
Step 7:
Heat vegetable oil in a frying pan. First, fry the side with the hole - we need to seal the meat juice inside so that the whites are juicy. Fry until this side is golden brown.
Turn the whites over to the other side, make the fire smaller and cook for another three to four minutes.
Important: When frying whites, they are turned over only twice. If you then turn over to the side with the hole again, all the juice will flow out - the pies will be dry.
After frying, place the whites on paper towels, they will absorb the excess oil.