In recent years, chicken puff salad has become especially popular. Chicken fillet is usually used, but other parts of the poultry are also possible. This salad turns out to be very tasty and, most importantly, satisfying. Of course, times have changed, but to feed everyone "to the fullest" in the blood of a Russian. Mayonnaise or sour cream is chosen as a dressing. Someone smears every layer, someone - through one. The only condition is that it is best cooked the day before, since the longer it stays in the refrigerator, the better it will soak and be juicier. Another indisputable plus of such salads is the ability to decorate in an unusual way. With vegetables, fruits, herbs, and other foods, you can create a themed drawing. But even if you serve the salad without decorations, it will still look very advantageous on the festive table.
The history of salads began in Rome before our era. The dish was mainly composed of herbs and vegetables, seasoned with honey, salt and vinegar. For quite a long time, the composition of salads practically did not change, and only in the Renaissance a new era of this dish began. The salad developed especially actively in France. The French mixed all kinds of vegetables, added artichokes, asparagus and cheese, and at the end of the 18th century, root vegetables were included. The dressing was also constantly changing: they used wines, different varieties of vinegars, olive oil, lemon juice, mixed herbs and spices. And only in the 19th century meat products first appeared in the salad, and then fermented and salty ingredients. A little later, they begin to add eggs. At the end of the 19th century, the salad began to be seasoned with mayonnaise, which takes the dish to a new level. And in the twentieth century, all kinds of fish, meat, seafood were added to salads. It ceases to be just a snack, but becomes quitean independent dish.
An important stage in the development of salads in the USSR can be considered the appearance of a modernized copy of a salad from Lucien Olivier. It was adapted to the realities of Soviet life, and mayonnaise was made as a dressing. This product was in short supply at that time, so salads were in most cases associated with chic and celebration among the common people. For cooking, they used all available products: canned peas, boiled and salted vegetables, sausage, meat products and much more. And, of course, in the spirit of that time, everyone tried to make the salad the most satisfying.
At first, all the ingredients were mixed, and mayonnaise or, in extreme cases, sunflower oil acted as a dressing. Later, salads began to be made in layers. One of the first were "Herring under a fur coat" and "Mimosa". Now there are a lot of options for puff salads. Many people like them more than classic dishes, where all the ingredients are mixed. In addition, flaky salads often have a more attractive appearance.
Below is a selection of the most delicious chicken flaky salads.
Content:
Puff salad with chicken, mushrooms and tomatoes
Layered chicken salad with Korean carrots
How to Make Chicken Pineapple Puff Salad
Layered salad "Bride" with smoked chicken and melted cheese
Puff salad recipe with smoked chicken, peas and cheese
Puff salad with chicken, corn, potatoes and pickled cucumbers
Chicken and Fresh Vegetable Puff Salad
Chicken puff salad with tomatoes and Mozzarella cheese
Chicken and Kiwi Salad - Emerald Bracelet
Puff salad with chicken, prunes and mushrooms
Puff salad with chicken, mushrooms and tomatoes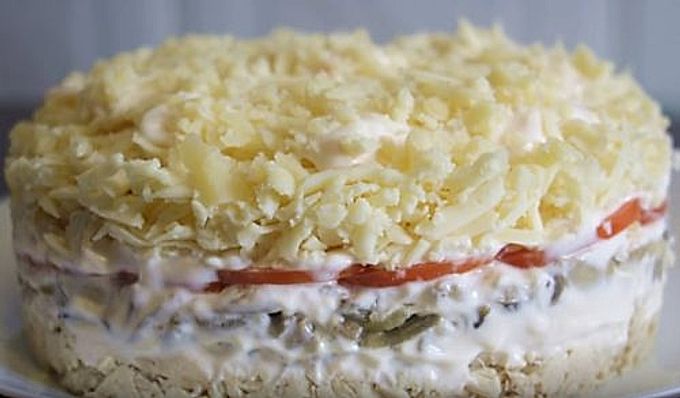 This salad consists of a minimal basket of products, but nevertheless turns out to be very tasty. The highlight of the preparation is the frying of onions and mushrooms: in the recipe you need to use butter, not vegetable. It is this that gives the extraordinary creamy taste with a light aroma. It is better to cook the salad immediately in portions on plates, using a special form to give a beautiful look. You can, of course, serve on a common dish, but then it is better to cut the tomatoes into cubes so that the salad does not fall apart.
You will need:
boiled chicken breast - 300 gr.;
champignon mushrooms (fresh) - 250 gr.;
hard or semi-hard cheese - 350 gr.;
onion - 1 pc.;
tomatoes - 2 pcs.;
mayonnaise for spreading salad;
butter for frying;
salt to taste.
Cooking steps.
1. Boil the chicken in salted water in advance. Let it cool and then cut into small pieces.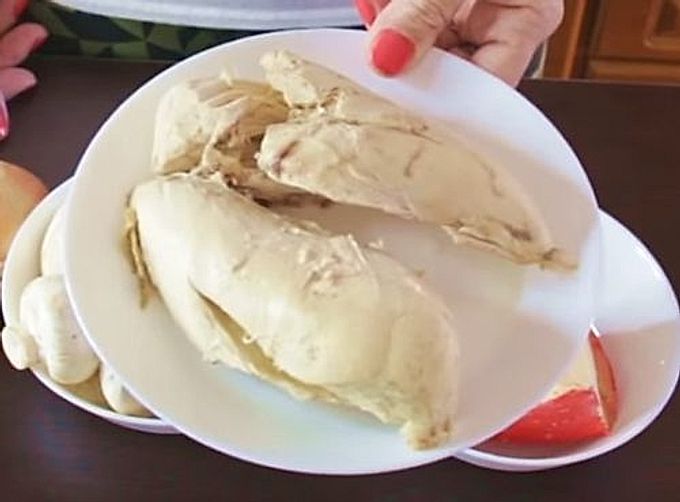 2. Peel and chop the onion. How exactly - in half rings or cubes, large or small - choose according to your taste.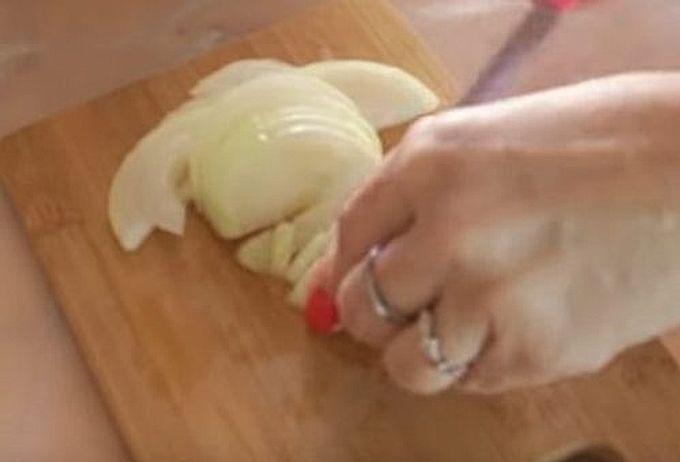 3. Wash the mushrooms and tomatoes, pat dry with a paper towel. Cut the mushrooms into small cubes.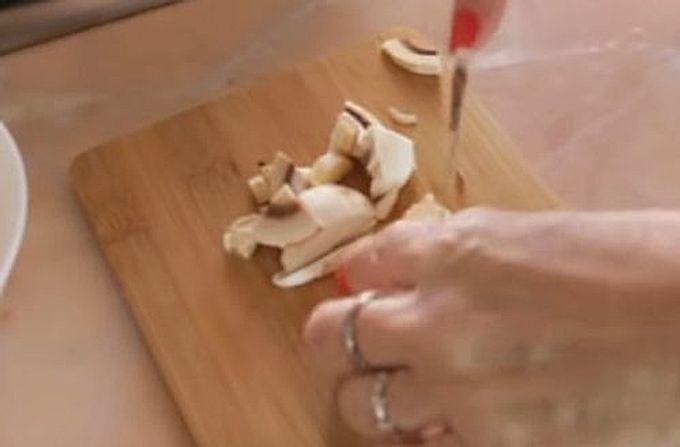 4. Melt the butter in a skillet and add the onion. Fry it over medium heat, stirring occasionally.
5. When the onion is soft and slightly golden, add the mushrooms to it, salt and fry everything together for another 10-15 minutes, stirring occasionally. When done, transfer to a separate bowl and let cool.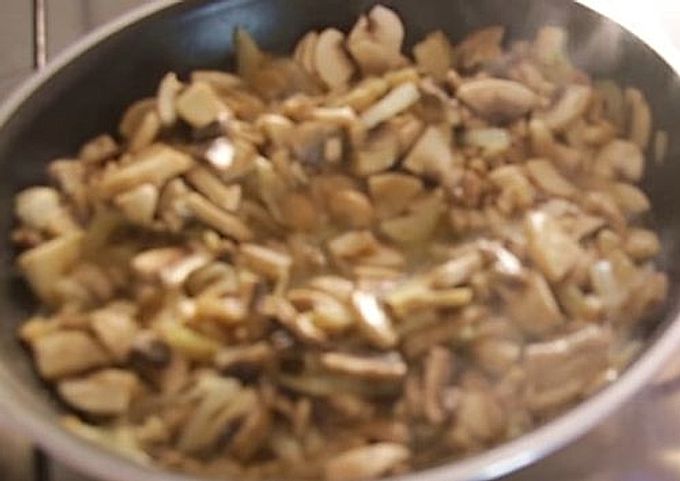 6. Cut the tomatoes into thin rings. Keep in mind that if you plan to serve the salad on one large platter, rather than in portions, then it is better to cut the vegetables into small cubes.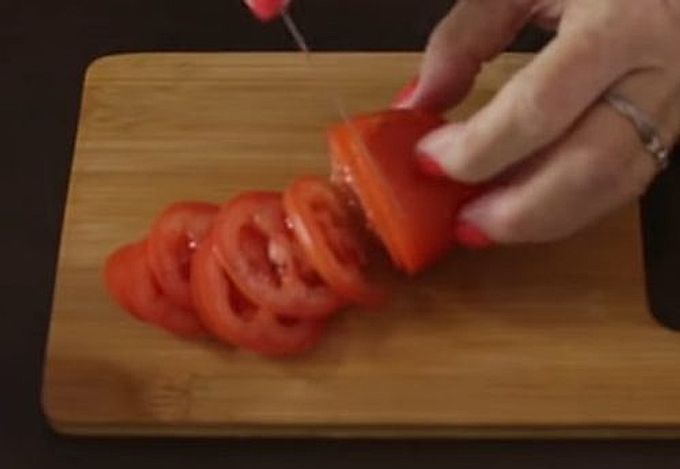 7. Grate the cheese on a medium grater.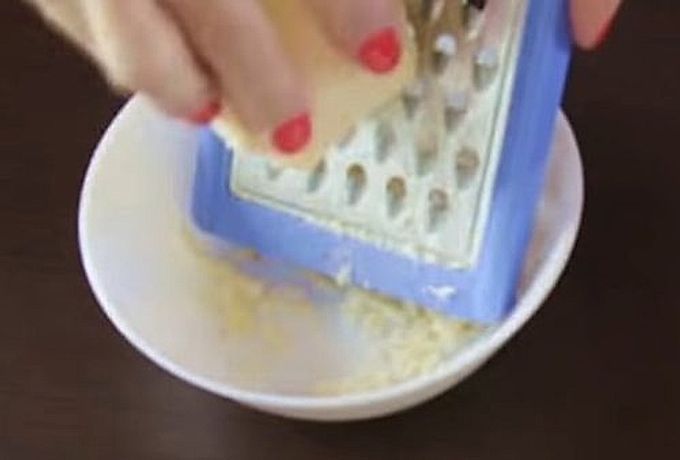 8. The next step is to assemble the salad itself using a ring. First lay out a layer of chicken and spread with a fine mayonnaise mesh.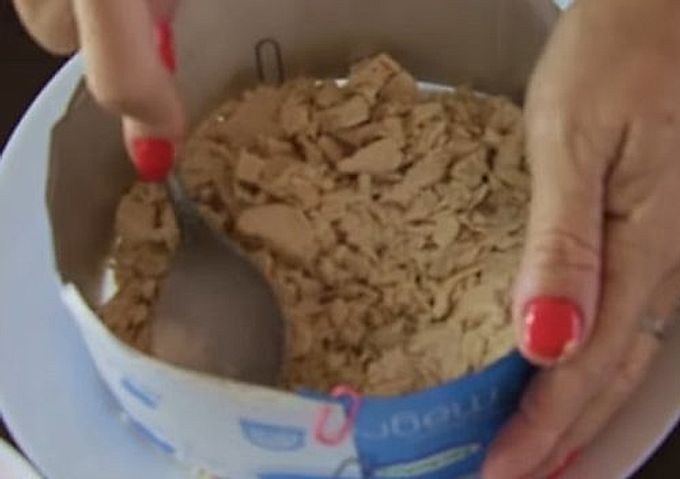 9. Next, onion with mushrooms. Smooth everything and crush lightly. Whether it is worth smearing this layer, decide for yourself, since the mushrooms were fried in oil and became quite fatty.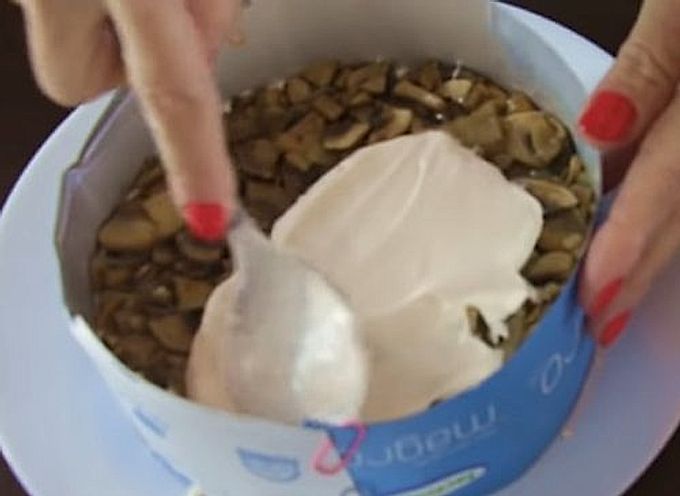 10. This is followed by a layer of tomatoes, which again needs to be greased with mayonnaise.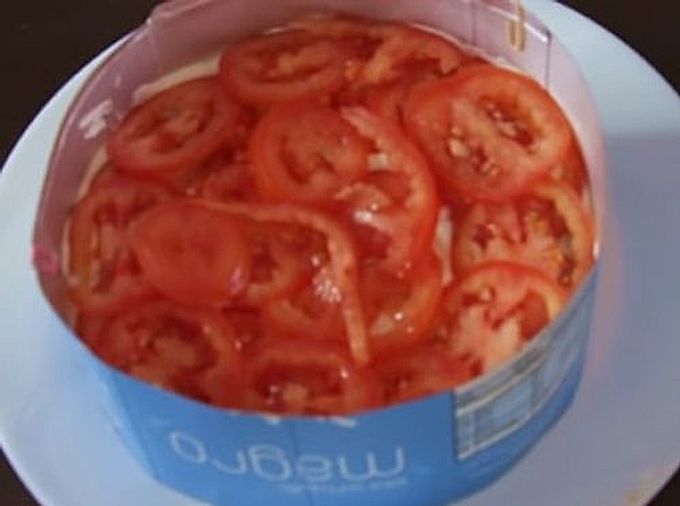 11. Then a little more chicken with mayonnaise, and the final layer - cheese.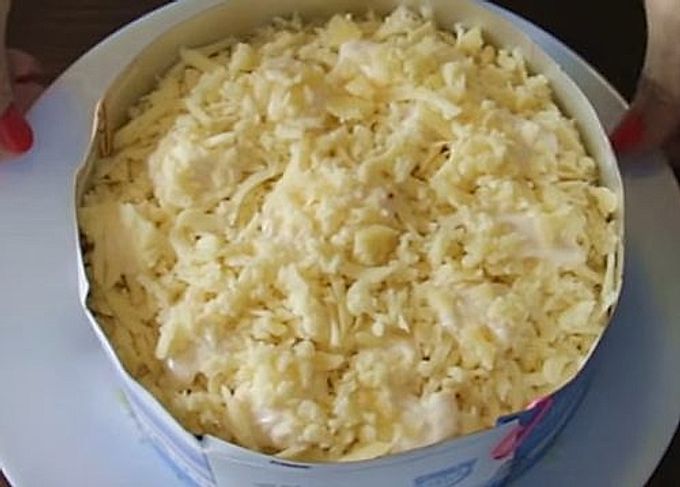 Cover the salad with cling film and refrigerate for at least 3 hours to soak.
Layered chicken salad with Korean carrots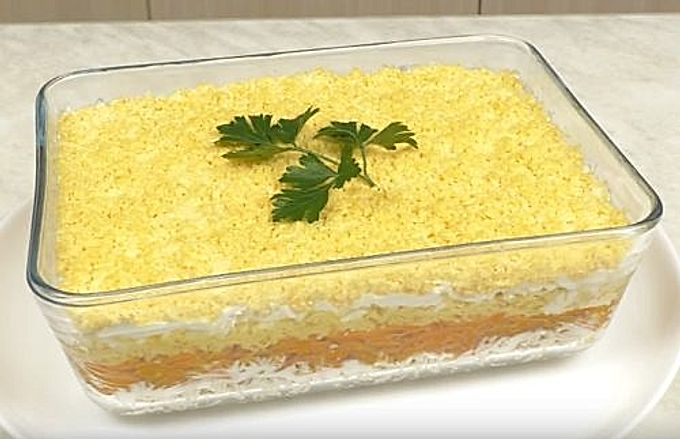 The classic ingredients of this salad are especially well combined with Korean carrots. It has a pungent spicy rich flavor that is softened by cheese and eggs. The very combination of these products with carrots is very unusual and interesting - your guests will definitely appreciate it. In addition, Korean carrots will add extra juiciness to the salad. To make the chicken fillet especially soft and tasty, boil it in salted water with the addition of pepper, bay leaves, onions and carrots. Such a layered chicken salad is perfect for a holiday or on a regular day.
You will need:
boiled chicken breast - 500 gr.;
Korean carrots - 400 gr.;
hard or semi-hard cheese - 200 gr.;
chicken egg - 5 pcs.;
mayonnaise for spreading salad.
Cooking steps.
1. Boil eggs until cooked through and let cool. Cook the chicken breast in advance.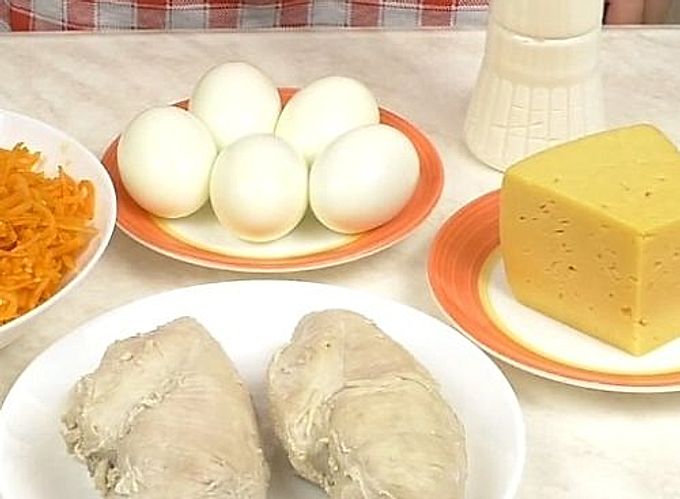 2. Cut the chicken breast into small cubes. Peel the eggs, separate the whites from the yolks.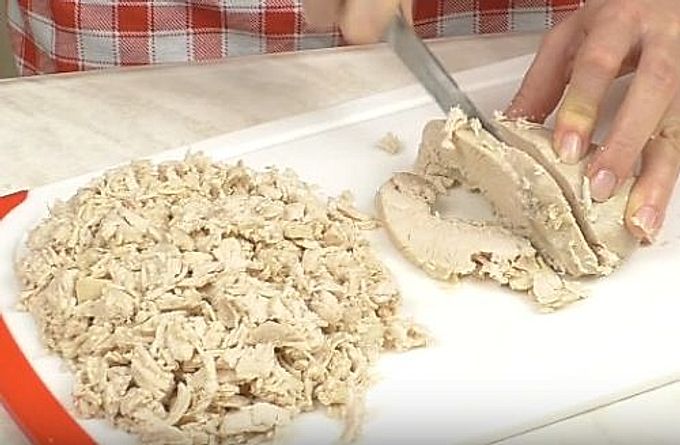 3. Rub the whites and cheese on a coarse grater. Chop the yolks by hand or pass through a fine grater.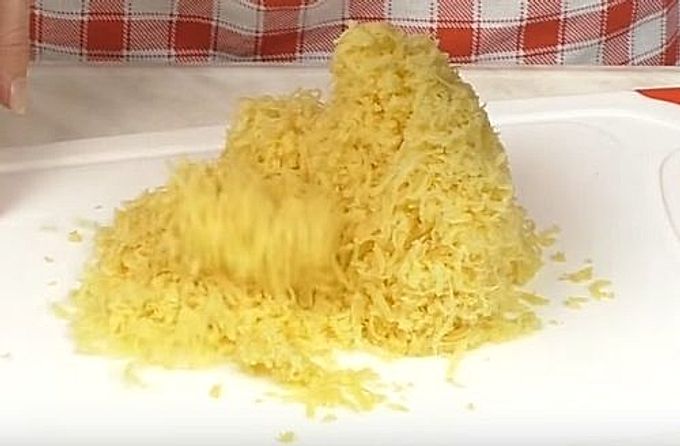 4. Now start assembling the salad. The ingredients must be stacked in layers, lubricating each, except for the topmost one, with mayonnaise. The first layer is chicken.