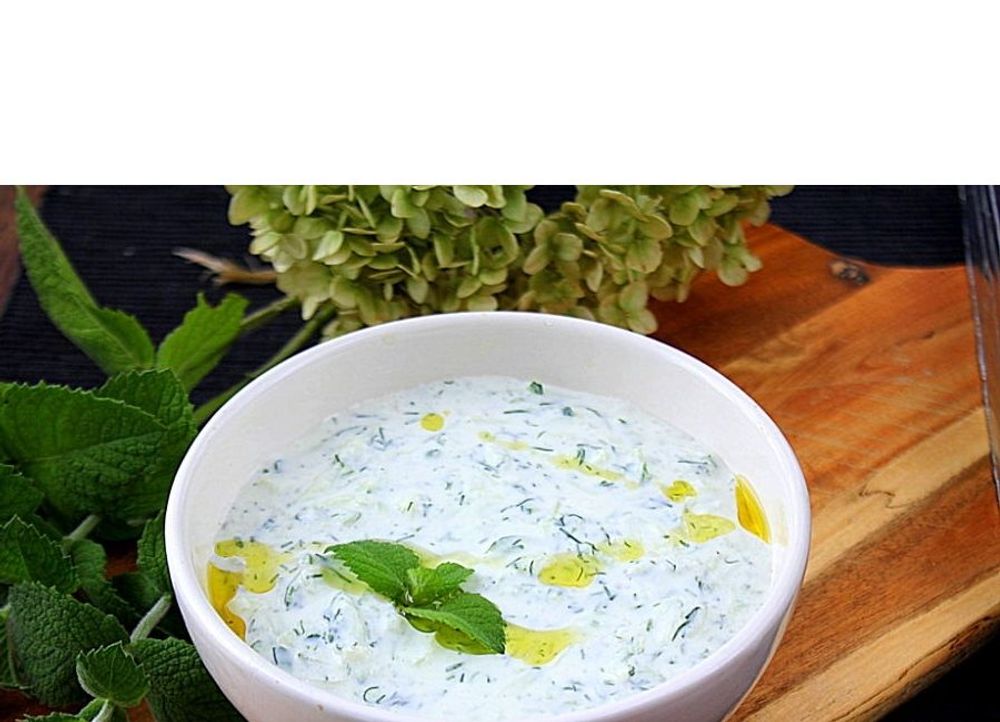 A light, fresh sauce, perhaps even an appetizer, Tsatziki is originally from Greece. It is served with meat, fish, vegetables, or used as a dip for pita and bread. Analogs of this sauce can be found in many cuisines of the world.
General \ asset cooking time: \
Servings Per Container: 3 Servings
Calories (100g): 56 kcal
Cost: very economical
How to Make Tzatziki Yogurt Sauce
Yogurt - 200 g
Cucumber - 2 pcs. small
Garlic - 2 teeth
Dill - 2 tablespoons
Mint - 1 sprig (s)
Olive oil - 1 tbsp
Lemon juice - 1 tbsp
Salt to taste
Black pepper - to taste
Preparation: Step 1
Tzatziki sauce is based on thick Greek yogurt. If you take a regular one, then it must first be thrown onto cheesecloth so that the glass is excess liquid, and the yogurt becomes thicker.

Also, a sprig of mint goes into the sauce - about 8 leaves (I left the top for decoration).
I take dill freshly frozen, so it waits in the freezer for its time.
My cloves of garlic are small, but if you are a fan of this vegetable, then you can take more.
Instead of or together with black, I sometimes add hot red pepper.
You will also need quality olive oil and lemon juice. These are all the main ingredients.

Preparation of ingredients will take literally 5 minutes.
If desired, remove the skin from the cucumber (I do this partially) and grate the vegetable.

Remove the mint leaves from the stem and chop finely enough.

If you took fresh dill, then it, too, like mint, needs to be finely chopped.

2Peel the garlic cloves and pass through a press.

The ingredients are prepared and all that remains is to mix everything.

Put mint, dill, garlic in a bowl. Squeeze the cucumbers a little and then add salt and pepper to the bowl along with the yogurt.

Pour in some olive oil and stir. Tsatziki yogurt sauce (another spelling can be tzatziki, tzatziki) is ready.

Of course, you should try the sauce right away and determine if there is enough salt, it may not seem sour enough to you. Always adjust the taste to your liking.

You can serve tzatziki yogurt sauce, garnish with mint leaves and drizzle a little with olive oil.
In Turkish cuisine, a similar sauce is made more liquid, and in Bulgaria, practically from the same ingredients, soup is generally prepared. You will also find his recipe on our website.
Things to know (Q&A)
What is tzatziki sauce made of?
Tzatziki is made simply with yogurt, drained cucumber, olive oil, fresh herbs (usually mint or dill), garlic, lemon juice and salt . It's a refreshing chilled sauce, dip or spread.
Is tzatziki sauce bad for you?
In general, hummus and tzatziki can be two of the healthiest toppers out there — as long as they're made with healthy ingredients rather than cheap vegetable oils. Both contain protein and healthy fats (a rare quality for condiments, according to Jalali) — making them an ideal dip for veggies or as a spread.
What is the difference between raita and tzatziki?
What's the difference between Raita and Tzatziki? Indian Raita and Greek Tzatziki are actually pretty similar, however, while Raita is made with plain yogurt, tzatziki is made with thicker Greek yogurt . That means Raita is thinner while tzatziki has a thicker consistency.
What can you dip in tzatziki?
Serve the tzatziki sauce as a vegetable dip. You can dip any kinds of veggies, such as carrot sticks, celery, broccoli, cauliflower and cucumber slices . Tzatziki dip can be a great help in getting you to eat more veggies! Another traditional way of eating tzatziki sauce is by dipping pita bread into it.
Is tzatziki sauce healthy?
Protein is one of the most important nutrients for weight loss. ... It can also be added to grilled meats for a high-protein dish. Summary: Tzatziki is a popular dip made from cucumbers and Greek yogurt. It's high in protein and low in calories.
Is tzatziki healthier than ranch?
More healthy highlights

Tzatziki made from low-fat Greek yogurt checks a lot of other healthy boxes. That two-tablespoon serving contains around 50 calories and 1.7 grams of fat, which is much less than ranch dressing and other creamy dips.
What can I use if I don't have tzatziki sauce?
If you've ever seen tzatziki, you would know hummus has the same texture and appearance, which means it's a suitable alternative. It's safe to say that the flavor profile of the hummus is pretty similar as well. Hummus has tahini along with olive oil and garlic which creates a unique flavor profile.
Is tzatziki sauce good for weight loss?
Protein is one of the most important nutrients for weight loss . It can help reduce appetite, regulate hunger hormones and increase metabolism ( 18 ). Tzatziki sauce is often served as a dip with pita bread. It can also be added to grilled meats for a high-protein dish.
Is tzatziki healthier than hummus?
Health-wise, tzatziki contains only 54 calories per a 45 gram serving; it also comes with only 8 grams of carbohydrates and a negligible amount of sodium. Which to Pick? If you make your determination based on health concerns, then hummus is clearly the less healthy dip, with high sodium being a particular concern.
Is tzatziki high in fat?
However, the USDA's 2015-2020 Dietary Guidelines for Americans recommends opting for fat-free or low-fat dairy products as often as possible. ... Per this recipe, a 2-tablespoon serving of tzatziki sauce has 28 calories, 4 grams of protein, zero grams of fat and 2 milligrams of cholesterol.
What is raita called in English?
Raita is a side dish in Indian cuisine made of dahi ( yogurt , often referred to as curd) together with raw or cooked vegetables, more seldom fruit, or in the case of boondi raita, with fried droplets of batter made from besan (chickpea flour, generally labeled as gram flour).
Is tzatziki and tahini the same?
While both are common sauces used at your local gyro place, tzatziki and tahini are super different. Tzatziki, as we said above, is a cucumber-yogurt sauce . Tahini is made from ground sesame seeds; it has a similar consistency to peanut butter.
What is another name for tzatziki?
Tzatziki, cacık (Greek: Τζατζίκι; Turkish pronunciation: [dʒaˈdʒɯk]), or tarator is a dip, soup, or sauce found in the cuisines of Southeast Europe and the Middle East.
What is raita dip made from?
That said, it's always made with yogurt —typically plain, full-fat yogurt—spices, and some kind of fruit or vegetable that will add heft and texture to the creamy spiced yogurt. Some people finish the raita with a handful of fresh herbs or even fresh, hot chilies.