Master class by Roman Zainiddinov, brand chef of the Georgian restaurant "Tkemali"
Adjika is a great opportunity to collect the brightest summer flavors under one lid: sweet tomato, persistent smell of spicy bell pepper, a bouquet of dried herbs and exuberant garlic spirit. Adjika is great to eat just like that - with a spoon or dipping a piece of dried wheat bread into it. Adjika can become an important component of the dish if it is some kind of stew that needs a rich sauce. And also it can be just a seasoning, which, despite its modest presence, will turn the mood of the dish in the right direction.
We decided to cook traditional adjika, for which we invited the brand chef of the Georgian restaurant "Tkemali" Roman Zainiddinov to our studio. Here is a photo-master class and a recipe.
"This is the simplest adjika, which will have to stand in the refrigerator or cool cabinet for a long time. For this reason, it should not contain fresh greens that can become unusable. If you really want to add some more flavors to the base composition, use dried herbs. It is best to take coriander, hops-suneli and ucho-suneli - 10 grams of each type of greenery is enough for a half-liter jar of adjika.
Tomatoes and peppers can be of any shape - they still have to go through a meat grinder. But the requirements for the taste of a tomato are high: it should be sweet Uzbek tomatoes, dark with green seeds - sweet and tasty.
It would be good to first soak the garlic that you will use in adjika in warm water for 15-20 minutes - this is necessary so that the garlic becomes softer and does not stand out much from the rest of the mass.
Otherwise, everything could not be easier: you need good food, a saucepan, a meat grinder and sterilized jars.
One.
Sterilize jars. Place them upside down on a towel. Then wipe dry.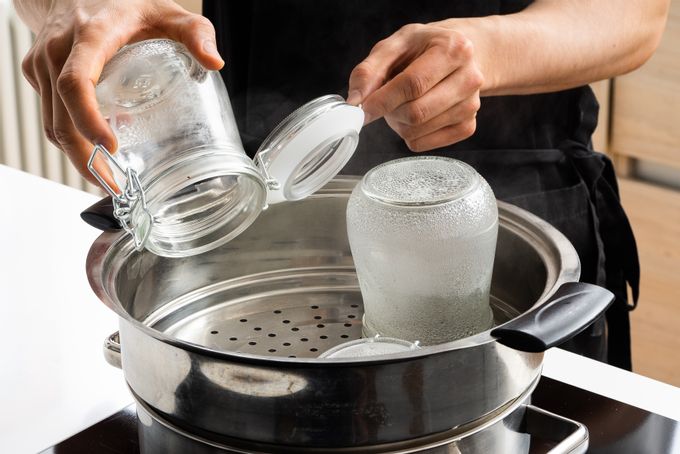 2.
Cut a kilo of tomatoes. You can cut it arbitrarily - the main thing is that they can be turned in a meat grinder.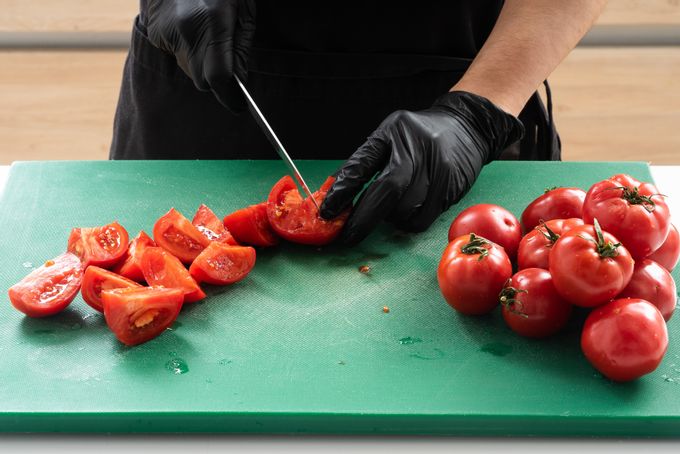 3.
Cut 400 grams of bell pepper. Also in random order - he will also go to the meat grinder.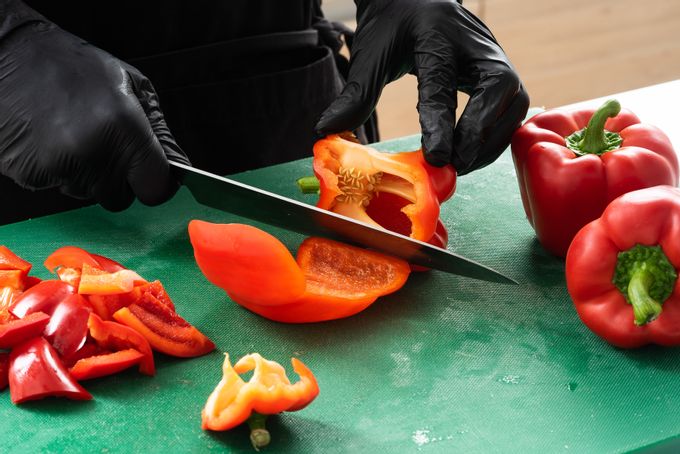 4.
Cut 100 grams of hot pepper. If you want to get spicy adjika, then leave the seeds in it. If you're not ready, take them out. It is better to do this with gloves so as not to burn your hands.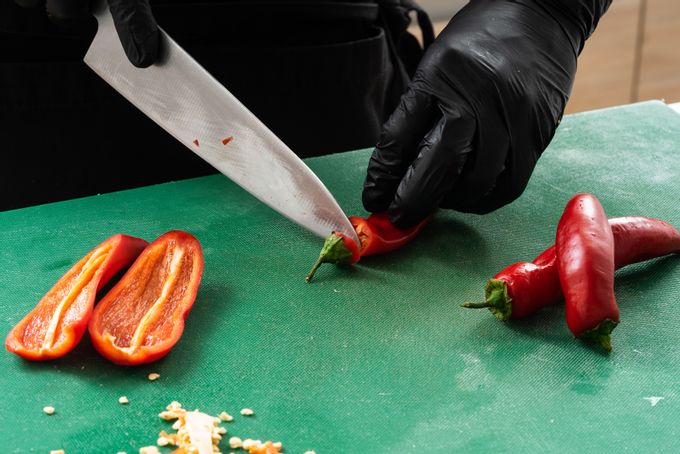 5.
Remove the husk from the head of garlic.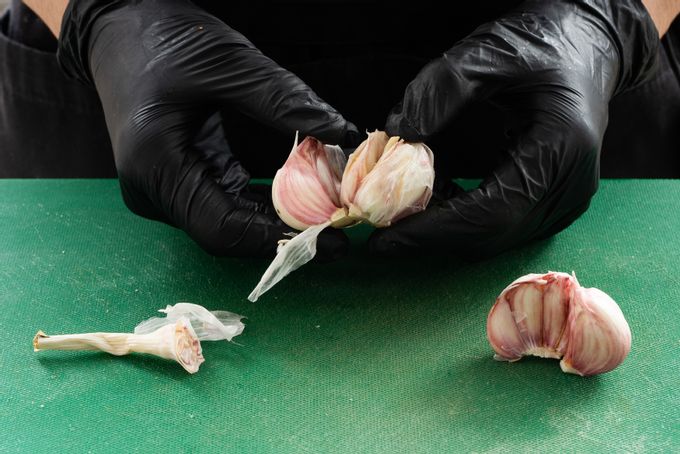 6.
Pass the tomatoes, bell peppers, chili and garlic through a meat grinder.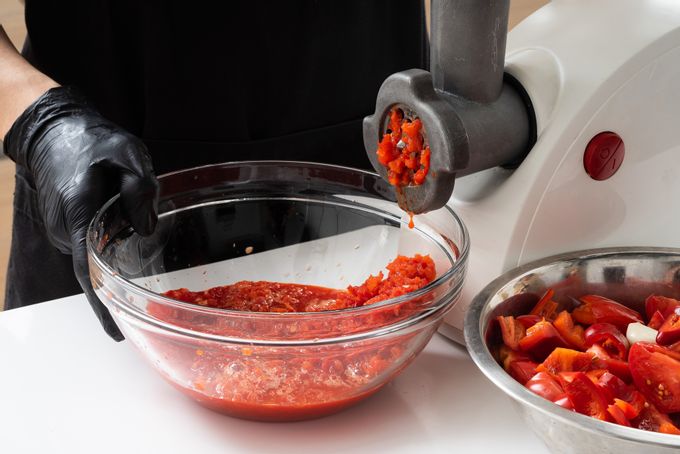 7.
Send the tomato-pepper porridge to the pan without oil. First, let the azhdika simmer for 3-4 minutes at a temperature of 100 degrees, then reduce the heat to medium and keep it on the stove for about 10 minutes.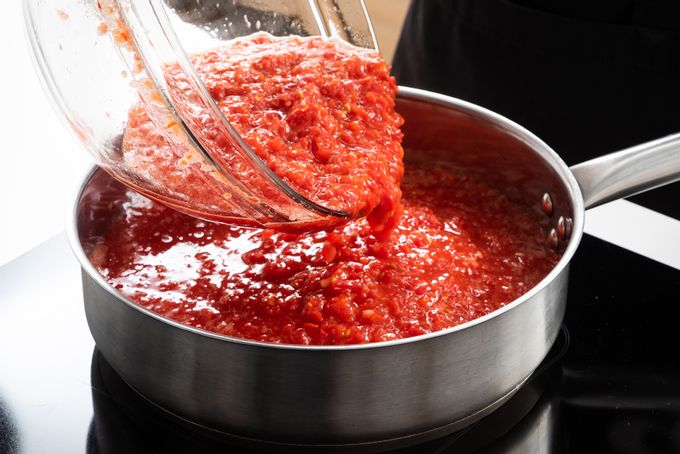 Eight.
Salt to taste.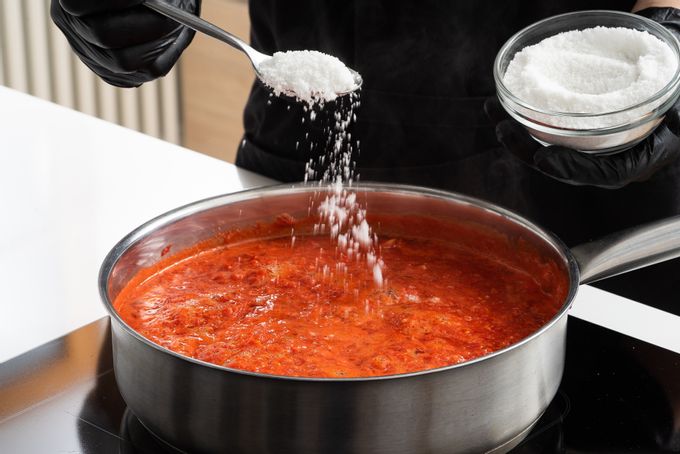 9.
Send adjika to the bank.