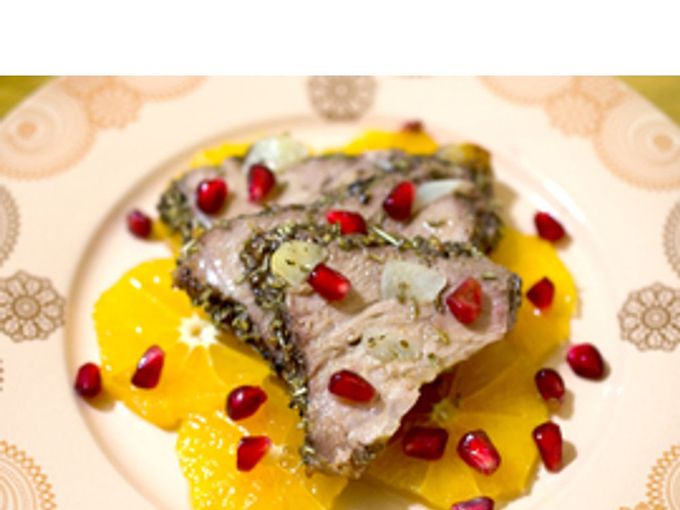 Do you want a simple recipe for delicious meat for the holiday table? Then pork neck stuffed with garlic and baked in a mixture of dried rosemary and five peppers is exactly what you need. Delicate, fragrant, slightly spicy slices of meat in combination with tangerine and pomegranate create a fireworks of taste! And everything is prepared very simply and easily.
This type of meat can be served hot as a main course or cold as a snack.
This recipe was invented spontaneously. It's just that in the butcher's shop, our butcher laid aside for me an excellent piece of pork neck, which I decided to bake. And then it started ... As a result, we got an insanely tasty, harmonious, beautiful and very festive dish.
For about 3 servings:
500 gr pork neck
5-6 cloves of garlic
2 tangerines (it is better to take sweet and sour Abkhaz tangerines)
2 tablespoons Santa Maria Five Pepper Blend Spice
2 tablespoons dried rosemary or 2 sprigs fresh
0.5 tbsp salt
1 tbsp vegetable oil
1 handful of pomegranate seeds
Rinse a piece of the neck, dry it with a paper towel. Peel the cloves of garlic, cut the large ones into 2-3 pieces lengthwise. Make deep cuts with the sharp tip of a knife and stuff the garlic into them.
Grease the meat with butter, rub it with salt and a mixture of rosemary and five peppers on all sides. If you are using fresh rosemary, then you must first chop it into small pieces.
Put the meat in a mold and send it to the oven, preheated to 200 degrees, for 40-50 minutes. Check for readiness by sticking a knife or a special needle into the meat. If the released juice is clear, then the meat is ready.
Cut the meat into slices. If you serve it as a snack, then the slices should be thin.
Remove the peel from the tangerines, as shown here, cut them into circles. Arrange these tangerine slices on a portioned platter or one large platter.
Place the meat slices on them.
Pour some juice from the dish in which the meat was baked. Sprinkle with pomegranate seeds.