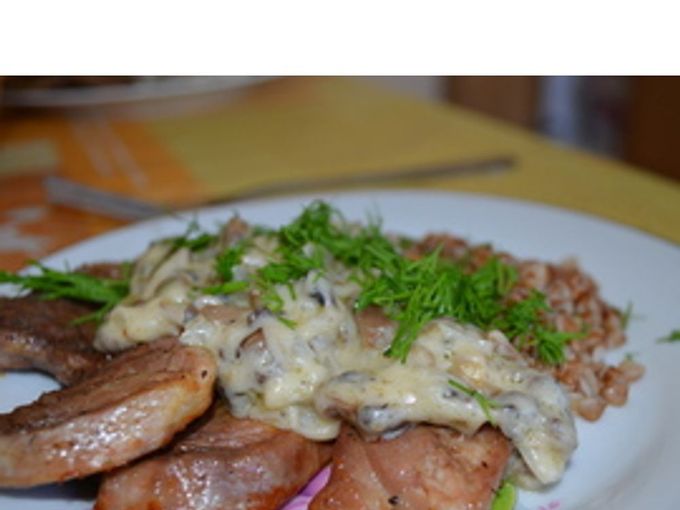 For dinner, we have tender pork tenderloin medallions with an amazing (I'm not exaggerating) mushroom sauce. For a side dish, cook what you like, but in my opinion buckwheat is very suitable for this dish.
For 2 servings we need:
300-400 gr pork tenderloin
olive oil
foil
For the sauce:
200 gr fresh champignons
3 tbsp flour
1 medium onion
2 tbsp butter
5 tbsp sour cream
dill greens
Let's start with the meat. Cut the tenderloin across into pieces, 1.5-2 cm thick.
Preheat the oven to 200 degrees, spread the foil on the baking sheet so that it is twice as large. Rub the pieces of meat with salt and pepper, put them on a baking sheet with foil and sprinkle with olive oil
Cover with the remaining foil on top:
We wrap the edges towards the center, just a little bit to make an envelope. We make 3 small holes with a knife in the middle of the envelope. We put in the oven for 30 minutes.
While the meat is cooking, finely chop the mushrooms
Fry mushrooms in butter until cooked over medium heat
Chop the onion finely
When the mushrooms are ready, add flour, salt, pepper, mix and leave on fire for 5 minutes
After 5 minutes add sour cream
And the bow
Stir everything under a closed lid for 5 minutes
The sauce turns out to be thick, this is exactly what you need
It's time to get our medallions out of the oven, they are tender and juicy
If you want meat with a crispy crust, open the foil and return to the oven for 5 minutes.
Sprinkle with dill when serving: