Pike fish soup is the favorite dish of the majority, therefore it is prepared at home, in the garden and at school, and is also present on the menu of the most expensive restaurants. There are many recipes for cooking - from one pike or with the addition of other types of fish. The set of products affects the broth fat, but the taste remains unchanged.
Pike soup with millet
This is a classic version of fish soup with the addition of cereals. The soup turns out to be hearty, and millet brings pleasant notes to the aroma. The taste of pike meat is not lost against the background of cereals, but is fully revealed. According to this recipe, it is better to serve the fish soup hot - this will make it possible to enjoy a fragrant dish. What is required for the dish:
pike - 500 g;
onion - 1 piece;
carrots - 1 piece;
potatoes - 3 pieces;
bay leaf - 2 pieces;
water - 3 l;
salt - 18 g;
pepper - 9 g;
millet - 100 g;
vodka - 50 g.
Prepare fish - clean, remove gills, eyes, fins. Rinse. Cut the carrots into 4 equal parts. Peel the onion only partially - the husk will give the broth its characteristic golden color. To cut in half. Put a pot of water on a low heat, put fish steaks, carrots, onions, bay leaves. Cook for 10-15 minutes. The foam must be removed periodically.
Rinse the groats and leave in a container with water. Remove the pan from the heat, remove the vegetables and meat. Strain the broth and turn on the burner again. Cut the potatoes into cubes. Pour potatoes, carrots and fish into the broth. Season with salt and pepper. Pour millet after boiling. Keep on fire for 15-20 minutes. Remove from heat, pour in vodka and leave to infuse under a closed lid for 10-15 minutes.
Pike ear with rice
This is another way to make fish soup for a hearty meal - rice makes it rich and rich. Rinse the groats thoroughly - this will allow you to get a transparent and beautiful broth. You should not boil the rice, then the ear will taste good. Ingredients:
fish - 300 g;
rice - 150 g;
carrots - 110 g;
potatoes - 140 g;
mayonnaise - 2 tablespoons;
water - 3 l;
cumin - 7-9 g;
salt - 18 g;
pepper - 9 g.
Prepare the pike for cooking - clean, remove the gills with eyes and fins. Rinse with cold water. Leave the whole carcass. Cut the potatoes into cubes. Carrots - straws. Rinse the rice under water, leave for a while. Place a pot of water on the fire, add fish. Cook until tender - 15 minutes. Take out the pike and cut into even steaks. Add vegetables, boil for 10-15 minutes. Add rice with mayonnaise, salt and season. Cook for 30 minutes. Put the fish in the prepared fish soup, hold on the fire for another 7-10 minutes. Remove from the burner and let it brew for 10-15 minutes.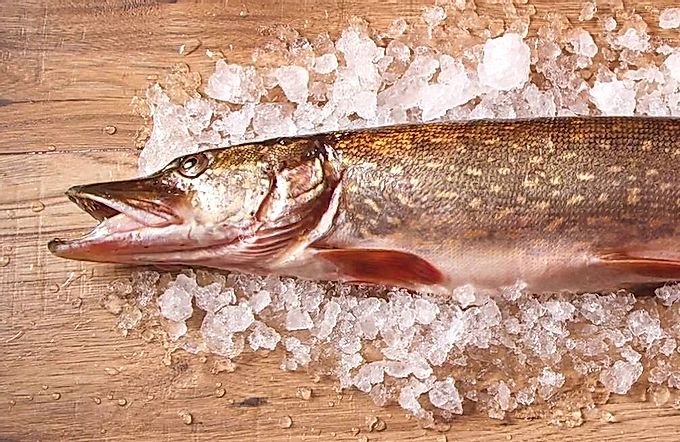 Frozen pike soup - cooking features
The ear is included in the list of dietary meals, therefore it is recommended for regular consumption. The rich set of trace elements makes the dish healthy, especially for children, so babies should receive it for lunch every week. This will protect the body from colds, disorders of the endocrine system. You should not defrost the fish - then the broth will be transparent without an unpleasant odor. Ingredients:
fish - 500 g;
water - 3 l;
carrots - 1 piece;
potatoes - 7 pieces;
onions - 2 pieces;
bay leaf - 2 pieces;
salt - 18 g;
pepper - 9 g;
vegetable oil - 30 ml;
fresh parsley - 7 branches;
lemon - 2 rings.
Cut the fins, tail and head from the fish carcass. Cut into portions. Cut the potatoes into cubes. Grate the carrots on a coarse grater. Peel the onion. Leave one whole, and cut the other into small cubes. Heat a frying pan on a burner, pour in oil, add carrots and onions. Fry until golden brown. Put a saucepan of water over low heat, add potatoes and put onion head. Season with salt, cook for 5-10 minutes, periodically skimming off the foam.
Add fish and remove onion from broth. Leave on fire for 7 minutes. Add overcooked vegetables and bay leaves with pepper, stir. Bring to a boil and turn off the heat immediately. Chop the parsley finely. Leave the ear for 20 minutes to infuse. Serve with herbs and 2 lemon rings.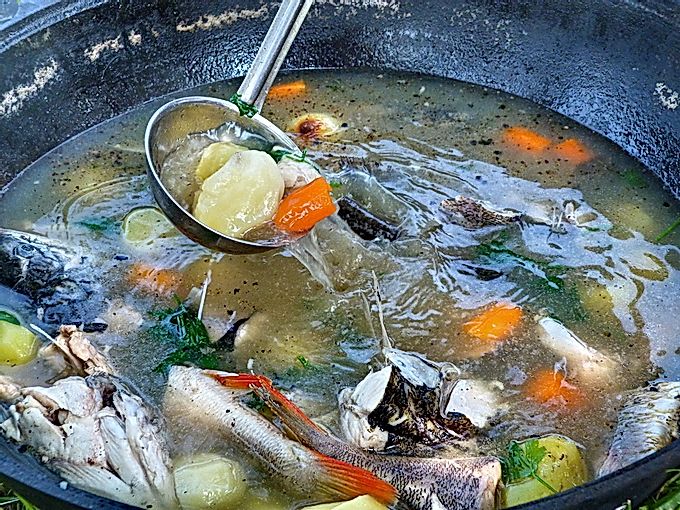 Double ear of pike and perch
The broth turns out to be rich and interesting in taste when supplemented with a perch pike. River fish is rich in beneficial amino acids and fats, which the body needs to resist viral diseases. The recipe is simple and does not require any special knowledge. You just need to follow the cooking scheme to preserve the taste and quality characteristics. Soup products:
pike - 700 g;
perch - 500 g;
carrots - 2 pieces;
onion - 1 piece;
parsley - 75 g;
bay leaf - 1 piece;
pepper - 6 peas;
millet - 100 g;
water - 2.5-3 liters;
greens - 50 g;
salt - 18 g.
Gut the fish, remove the gills, eyes, tail and head. Cut into chunks. Put the pan on fire, add water, add meat and salt. Bring to a boil, remove the foam. Cut the carrots into strips and finely dice the onion. Add to fish. Cook for 25-30 minutes. Remove from heat, remove vegetables and fish, and strain the broth. Rinse millet and cover with cold water. Cut the potatoes into large cubes and the parsley into small cubes. Put the strained broth on the fire, add potatoes, parsley, fish, carrots and millet. Cook for 20 minutes. Leave for 15 minutes to infuse.
Pike and Roach Soup Recipe
This is another version of the classic fish soup method. Roach adds a pleasant spice to the broth, making the dish special. The aroma is filled with a characteristic fishy aroma, for which this dish is loved. The cooking time takes about an hour, but it's worth it. Ingredients:
pike - 500 g;
roach - 800 g;
carrots - 1 piece;
onion - 1 piece;
millet - 200 g;
potatoes - 4 pieces;
water - 4 l;
salt - 18 g;
greens - 100 g;
butter - 50 g.
Rinse the fish, gut. Cut the pike into steaks, and remove the gills, eyes and fins from the roach. Put the pan on fire, pour in water. Wrap the roach in cheesecloth and put it in a saucepan. Cook for 15 minutes, then remove. Put the pike in the broth, keep on fire for about 20 minutes.
Rinse millet and cover with water. Cut the potatoes into large cubes, the carrots into strips, and finely chop the onion. Add millet and potatoes to the fish. Cook for 15 minutes. Fry carrots and onions in butter until golden brown. Pour the fried vegetables into the broth. Finely chop the greens and serve to the ear.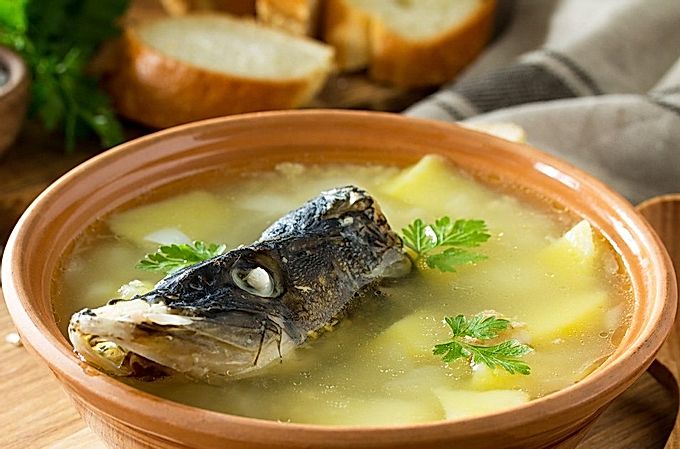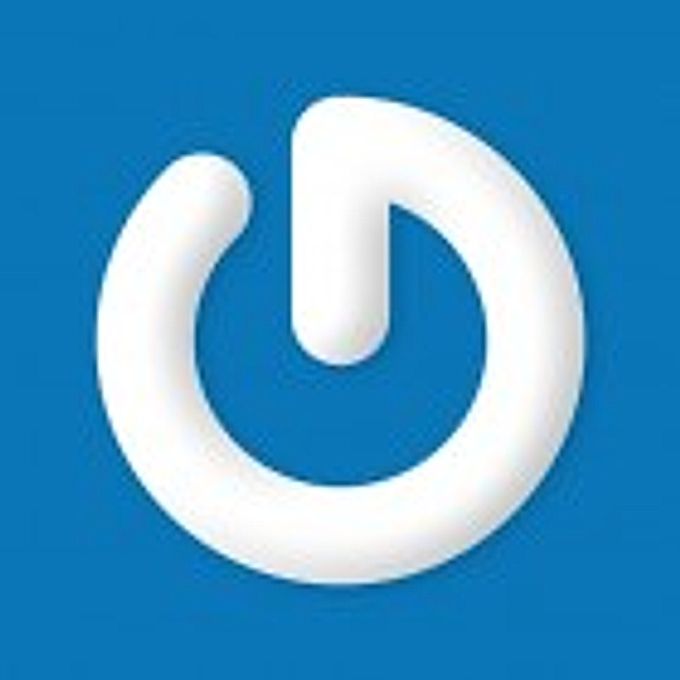 Things to know (Q&A)
How do you cook UKHA?
Instructions
In a medium pot, heat the olive oil over medium-high heat. Add the onions and cook , stirring occasionally until the onions start to caramelize. ...
Add the stock, water, potatoes, bay leaves, and black peppercorns. ...
Gently add the fish cubes. ...
Garnish the soup with chopped fresh dill or parsley before serving.
Is Pike meat good?
February 6, 2017. Contrary to popular belief, northern pike are actually a deliciously tasty fish if done right. ... They are chock full of bones; however, with a little care and know how, one is able to fillet a pike such that there won't be a bone to be found. See the video for tips on how I like to clean pike . 6
What does pike taste like UK?
So what does Pike taste like ? Pike has a very mild flavor with firm white meat. Pike's white meat is texturized and has quite a few bones that make it ideal for recipes that are mousse based or with an element of creaminess. Pike can be purchased as frozen or fresh. 30
How do you make fish stock from scratch?
Ingredients
4 pounds fish frames (bones) from sole, flounder, halibut, and/or turbot, cut into 2-inch pieces and rinsed clean of any blood.
1/2 cup dry white wine.
About 2 quarts water.
2 medium onions, very thinly sliced.
4 stalks celery, very thinly sliced.
2 medium carrots, very thinly sliced.
2 dried bay leaves.
What is typical Russian food?
Pelmeni is considered the national dish of Russia . They are pastry dumplings are typically filled with minced meat and wrapped in a thin, pasta-like dough. They can be served alone, slathered in butter and topped with sour cream, or in a soup broth.
Is Fish Head Soup healthy?
Salmon head soup is a good food during the cold and flu season because of the large amounts of vitamins A, C, D, E and omega threes. Omegas are important for fighting colds and flu and also the Vitamin D.
Can pike bite your finger off?
Could a Pike Bite Your Finger Off ? No, it could not. Its teeth are simply not strong enough to bite through a human finger bone. Technically, the larger teeth could penetrate through to a bone in your finger , but they could not bite them off .
Do pike like liver?
Pike require cleaning carefully; there are chefs privileges within the guts – liver and heart especially. Then they need scaling, and the gills removed if using the head. Â Fresh River fish yield good tasting organs, especially the liver . Separate them from the rest of the internal parts, and rinse carefully.
Which stock is the easiest to prepare?
Among the different types of stock , which one is the easiest to prepare ? The vegetable stock is the easiest to prepare . This stock is made from white meat or bones.
Can you overcook fish stock?
I eventually learned where the ''don't overcook stock '' rule came from. ... However, these fish do make a bitter stock if cooked longer than 20 minutes. If no flat- fish bones are used, the stock can cook for four to six hours; this slow cooking extracts all the gelatin from the bones and makes a wonderful, rich broth .