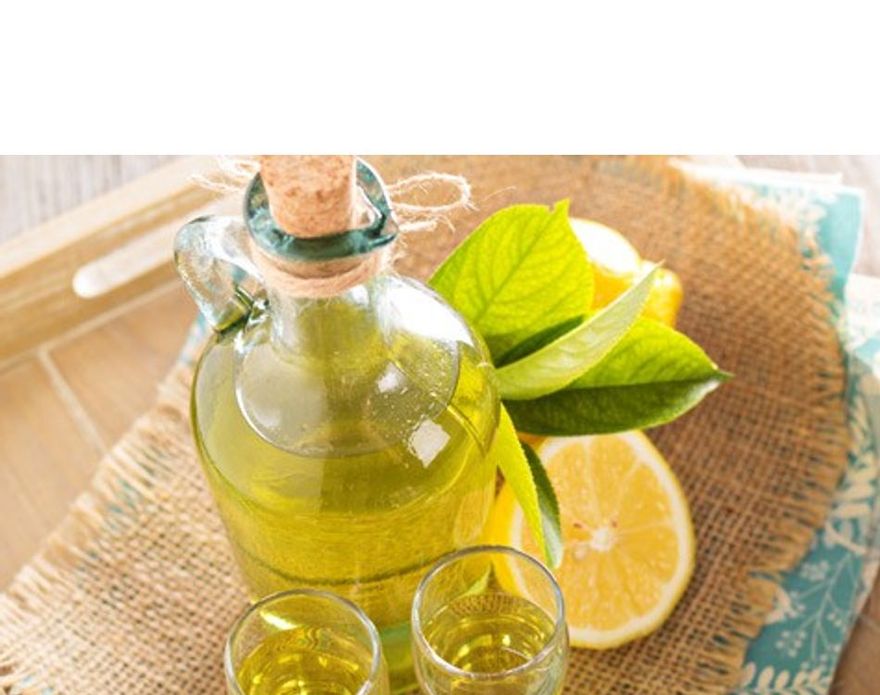 Italiaanse citroenlikeur met de romantische naam "Limoncello" is gemakkelijk thuis te maken, er zijn slechts 4 eenvoudige ingrediënten en een week infusietijd voor nodig. Het principe van de bereiding van deze limoncello is heel eenvoudig: citroenschil wordt in alcohol gegoten en vervolgens wordt de resulterende tinctuur gemengd met suikersiroop.
De hoeveelheid suiker waarmee de likeur wordt bereid is naar eigen smaak aan te passen.
Citroenen om te koken moeten zeer zorgvuldig worden gekozen en grondig worden gewassen voordat de schil wordt verwijderd. Idealiter zouden biologische citroenen moeten worden gebruikt die zijn geteeld zonder het gebruik van chemische meststoffen en die niet zijn verwerkt voorafgaand aan de verkoop.
De aangegeven tijd voor het maken van limoncello wordt gegeven zonder rekening te houden met de tijd voor het trekken van de schil, dit duurt een week.
Algemeen \ actief kooktijd: 30 minuten \ 30 minuten
Porties per container: 20 Porties
Calorische inhoud (100g): 158 kcal
Kosten: gemiddelde kosten
Hoe linmocello te koken
Citroen - 4 stuks. (middelgroot, alleen rasp nodig)
Wodka - 500 ml
Suiker - 350 g
Water - 600 ml
Voorbereiding:
Van citroenen moet je de schil in brede reepjes snijden, het is handig om dit met een dunschiller te doen. Probeer alleen het gele deel af te snijden, het wit zal bitter smaken.

Doe de hele schil in een pot met wijde hals en vul deze met wodka. Dek de hals af met huishoudfolie en laat zeven dagen op een koele plaats trekken. Als je limoncello maakt in de zomer en het is erg warm in huis, dan kun je de pot beter in de koelkast zetten, is hij koel in huis, dan kun je hem op kamertemperatuur laten staan.

Op de zesde dag (de dag voor het einde van de infusie van de schil, kunt u de siroop een paar uur van tevoren bereiden). Dit doen we van te voren zodat de siroop de tijd heeft om af te koelen. Voor de siroop moet je het water koken en suiker toevoegen aan het kokende water. Roer tot de suiker volledig is opgelost en laat de siroop afkoelen.

Zeef op de zevende dag de zestetinctuur (heeen duidelijke gele tint krijgen) en meng de alcohol met de eerder bereide siroop. Je kunt een paar reepjes schil apart houden en in flessen doen waarin je de limoncello schenkt (dit is alleen ter decoratie).

Limoncello is klaar! Het blijft om het in flessen te gieten met een nauwsluitende stop. Je kunt de likeur op kamertemperatuur bewaren, maar voor het serveren moet deze in de koelkast of vriezer worden gekoeld, ze drinken zo'n likeur koud. Limoncello wordt meestal na het avondeten gedronken uit kleine glaasjes als digestief.
Vragen en antwoorden (FAQ)
What type of alcohol is in limoncello?
Limoncello is an Italian liquor made from the zest of lemons, sugar, water, and, of course, alcohol ( usually grappa or vodka ).
Do you drink limoncello straight?
The traditional way of drinking limoncello is to serve it well chilled, neat (no ice) , in a chilled cordial glass. ... Limoncello can be used in a variety of drinks, from simple tall drinks to more complex cocktails and martinis.
What does limoncello taste like?
Limoncello tastes sweet with an intensely concentrated citrus flavor , like drinking lemon candies. Drunk straight as a chilled shot, it's both refreshing and invigorating. The pure lemon flavor is like no other liqueur.
Do you sip or shot limoncello?
Yes , it is served in a small ("shot") glass, but that is because it's high in alcohol and you don't serve very much. It should be sipped, savored, enjoyed for each drop of lemony goodness.
Is limoncello a type of vodka?
The most comprehensive limoncello article EVER! Get the authentic recipe PLUS I help you make perfect limoncello even if you can only get 37% vodka! Limoncello is a sweet and potent Italian lemon liqueur made with steeping lemon peel in grain alcohol, or vodka, as a substitute.
Is limoncello high in alcohol?
Limoncello has about a 30% alcohol content so while it may jump start your digestive enzymes, it will also get you DRUNK.
What exactly is limoncello?
Look no further than limoncello for a tangy and refreshing taste that is typical of southern Italy. Limoncello is a liqueur made from lemon, vodka, sugar, and water . ... However, possibly the most famous of all is lemon served in the form of a sugary, bittersweet liquor, known as limoncello.
How much alcohol is in a shot of limoncello?
An alcohol content of 28-32% is considered optimal for Limoncello, though a less alcoholic version, which is known as Crema di Limoncello, having an alcohol content of around 16% also exists.
How are you supposed to drink limoncello?
When serving limoncello, always pour it straight from the freezer, and preferably in chilled cordial or shot glasses . The colder the limoncello, the better the flavor. Like a romantic evening, limoncello should be savored slowly.
Do you serve limoncello cold?
Traditionally, Limoncello is served chilled as an after-dinner drink or as is commonly referred to in Italy as a "digestivo." We also recommend Fiore Limoncello as a preferred drink at cocktail parties with any variety of hors d'oeuvres.
What is limoncello supposed to taste like?
What Does Limoncello Taste Like? Limoncello is a very sweet liqueur with an intense flavor of lemons . It lacks the tartness of lemon juice and is more like a spiked, highly-concentrated, citrus-flavored syrup that's very delicious.
Is limoncello a good shot?
Lemon drop shot with limoncello

Limoncello is an Italian lemon liqueur that's smooth and sweet with an intense lemon flavor. It compliments lemon drop very well, and you can add it into your shot for some extra lemon flavor. Keep vodka and limoncello ratio around 2:1 for a balanced taste.
How should limoncello taste like?
It almost tastes like summer in a glass , though of course with citrus being more of a winter fruit, it's more made in the cooler months. Whenever you enjoy it, it's a wonderful burst of fresh citrus flavor.
Does limoncello taste like alcohol?
Limoncello is a liqueur made with lemon zest so you should expect a very intense lemon flavor. Limoncello tastes sweet because of the simple syrup that is added to it during the making. But, it lacks a little bit of the tartness lemon juice has. It feels like a spiked but sweet citrus-flavored drink.
Do you drink limoncello straight?
Regardless, limoncello is often served chilled (but not over ice) to exalt its flavors. ... Aside from drinking it straight out of the bottle, limoncello can also be used for making cocktails combined with a citrus juice, blackberries, basil, or mint, vodka, and maybe a syrup to help remove its slight tartness.
Does limoncello taste like lemon?
What Does Limoncello Taste Like? Limoncello is a very sweet liqueur with an intense flavor of lemons . It lacks the tartness of lemon juice and is more like a spiked, highly-concentrated, citrus-flavored syrup that's very delicious.
How long can you drink Limoncello?
Limoncello should be drunk fresh and within seven days of being made. It can also remain drinkable for up to 1 month if it is refrigerated, but the taste will start degrading as time goes on. You can also freeze Limoncello for up to a year and still enjoy its flavor.
Do you chill limoncello?
Does one store it in the refrigerator or freezer? Limoncello does not require refrigeration for long-term storage. However, as is the tradition along the Amalfi Coast, we highly recommend chilling Fiore Limoncello either in the refrigerator or preferably in the freezer for several hours prior to serving .
How should you drink Limoncello?
Limoncello goes down smooth. Served in freezer chilled shot glass, it is bracingly ambrosial. For its digestive properties, it almost feels virtuous to drink. Limoncello has about a 30% alcohol content so while it may jump start your digestive enzymes, it will also get you DRUNK.